On the cote de Landais, a favorite region of mine but the most regions in the west and south of France are!
This new watercolour measures  23 x 32 cms.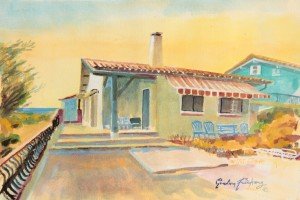 A pleasure to paint, for distant friends who when introduced a couple of years back by my good friend Valerie Lambert where spontaneously very hospitable.
I don't know if I'll ever get back to Hossegor, air temps of 30, sea temps of 25 +, fine sandy beaches, inexpensive good restaurants… for sure I have many beautiful memories of the 'surf centre' of France.
The cote de Landais including surfing with my son when he was an instructor for Wavetours and watching the most beautiful moon rise I've ever see while visiting some years back one late September with Francoise Boitel.