House painting?
More to it than you might at first think. Page updated  new images and revised texts.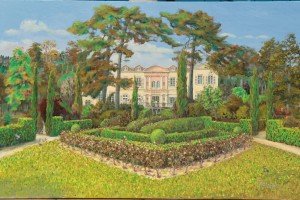 This beautiful painting, produced partly on location was much acclaimed by the Gaillac historian and author Alaine Sorreano, mentioned  more times than any of the other paintings in the collection when he introduced an inaugural showing of this collection at the Maison Culturale, Ville de Gaillac.
This elegant new painting in oils on canvas measures would make a worthy addition of any collection, private or public.
"Château de Saurs" measures 76 x 121 cms (30″ x 48″), oils on canvas, £12,000.00, ex studio, ex frame, the painting is very suitable for an 'up market', restaurant or hotel wishing to attract educated discerning clientele.
The present château was built between 1848 and 1852.
As a visitor you are free to explore and enjoy the beautiful gardens as I did.
To begin your discovery, follow my footsteps into this extraordinary painting.
Château de Saurs has produced many award winning wines, you can freely sample and if you wish, buy these fine wines produced from the surrounding vines.
Wine making has been a family tradition for the  Gineste de Saurs family, seated  at château de Saurs  since the 14th century.
A splendid result with the most elegant chateau in the region, the painting was produced partly on location, my particular thanks to the patron of Château de Saurs,  Yves Burres.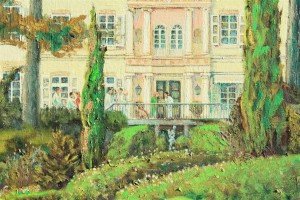 You can discover more about the art behind this fine painting by following this link Château de Saurs, enjoy.
Copyright 2017:
Copyright fees and our Terms are among the most generous on the Internet, don't hesitate to ask for details by email, whatsapp, or phone+ 44 (0)1865 52 2435 M: + 33 (0)6 10 66 19 26
Gordon Frickers © 17.05.2017