Painting Carcassonne, well not all of it.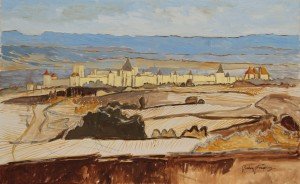 A question for you?
Should I continue to paint here or is this painting already sufficiently pleasing to stop soon ? 
This image is you will notice, unconventional, individual, not quite what I usually produce.
For those of you who like to see work in progress.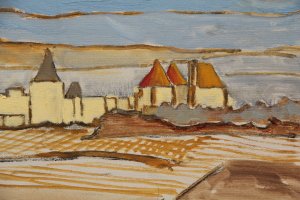 Here I am 'playing' with building up the image.
Can it one regard it as complete, near complete or should we say that is good under painting now finish it .
Can we keep the present exciting qualities and say this painting is ready for  a home?
Simply the most famous, most fabulous monument between Monte Carlo and Bordeaux.
This painting is represents the beginning of a new mini series, intended to be 6 fair sized paintings of Carcassonne introducing the vineyards, river and inside of the old city
This carefully planned original painting, I have visited the city and it's environment 4 times before settling on how and why I have chosen my compositions, measures a healthy 76 x 121 cms (30″ x 48″), is oils on canvas, produced on speculation, art for art's sake, so is in need of a good home.
I little more about the painting process and better quality images on www.artfrickers.com , visit, enjoy