Sunrise painting 'plien aire' so unrepeatable, Sunrise 25 July.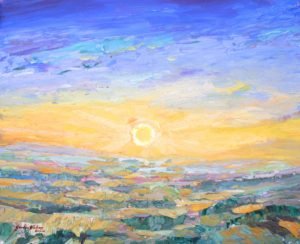 Part of

  The South West France Collection 

. 
Looking for the best in landscape paintings? You have found one here.
Painting sunrise 'plien aire' by Gordon Frickers,  40 x 50 cm (15¾" x 19¾").
Available £1550
> with your credit card Purchase Now  < via Paypal, in any currency, or bank to bank; or in instalments by arrangement, contact Gordon Frickers.
How much in my currency?
 Try this   free XE Currency converter.
Sunrise painting
Radiating warmth, this is an imprecise painting and yet remarkably keen observation is evident.
A mystery rich result challenges our imaginations, encourages,  suggestive, stimulates whenever we look at the painting, our best creative processes.
My objective  with my 'Sunrise Project' together with the 'Sunset Project'  was to discover what happened when an artist with odd colour vision [that's me] painted what he saw as it happened.
A spontaneous, creative, painting, made as a new dawn raises hopes of a fine day and painted as much by honed instinct and intuition as by careful management.
Colours
How would the colours, tones and composition reveal themselves given the picture had to be completed is some 20 to 40 minutes?
This semi abstract painting in part resulted from a conversation with a mentor of mine Francis Pratt who suggested and we discussed ""Finding Power Painting".
The lack of detail is part of it's strength.
Too much detail often detracts from the whole impact, like wise in spinning yarns, rather as radio often results in better pictures than you 'see' on TV…
I very deliberately kept the painting as abstract as possible. 
Is it a success?
Your best value, buy from a dedicated artist- buy from a reputable, established artist direct from his studio.
Many distinguished people and renowned companies chose Frickers paintings as you can discover by reading my illustrated résumée.
Gordon Frickers paintings have distinctive, enduring qualities in part because he has an unusually rich form of colour vision, qualities, gifts he has in common with some of the greatest past masters including Cézanne Degas, Dürer, Titian and Rembrandt, Monet.
To acquire this or commission a similar painting, a pleasure to own, a sound investment, you can purchase in easy stages.
Contact Gordon Frickers Paintings
Landline : + 33 (0) 9 79 01 93 20
Mobile : + 6 10 66 19 26, E : artistfrickers at gmail.com
WhatsApp, Telegram.com or Facebook Messenger to  'gordonfrickers'
Email: artistfrickersatgmail.com : note, the 'at' is to fool robots and should be replaced with @ : if it arrives I always reply.
Websites : www.frickers.co.uk/art (marine & aviation)
& www.artfrickers.com (Landscapes & portraits).
Copyright 2022 and legal moral rights for painters :
Sharing my pages and posts for private use helps everyone.
For commercial use our Fees and  Terms  are among the most generous on the Internet.
Don't hesitate to ask for details.
Gordon Frickers © updated 09.08.2022
You are cordially invited to follow and share The Art of Gordon Frickers on his blog and or www.facebook.com/gordonfrickers.