Sunrise paintings from Montmiral, 06 August.
Looking for the very best in timeless landscapes? You have found one here.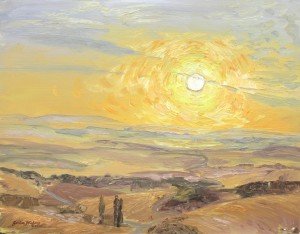 Sunrise painting by Gordon Frickers, 40 x 50 cm (15¾" x 19¾")
Available £ 1800.
> with your credit card Purchase Now  < via Paypal, in any currency, or bank to bank; or in instalments by arrangement, contact Gordon Frickers.
How much in my currency?
 Try this   free XE Currency converter.
You can own one of 

  The South West France Collection 

. 
You could purchase or commission a painting of this quality, phone, ask how. Contact Us
Your best value, buy from a dedicated artist- buy from a reputable, established artist direct from his studio.
This Sunrise painting :
A bright dawn, an unrepeatable painting,  after careful preparation, power painted in 40 minutes.
reminding us to live as if our story, to be fully in the present.
To acquire this or commission a similar painting, a pleasure to own, a sound investment, you can purchase in easy stages.
To make a purchase the easiest way is bank to bank, ask for details, or using PayPal via the Purchase Page.
Purchase Now  with Paypal or bank to bank
Landline : + 33 (0) 9 79 01 93 20
Mobile : + 6 10 66 19 26, E : artistfrickers at gmail.com
WhatsApp, Telegram.com or Facebook Messenger to  'gordonfrickers'
Email: artistfrickersatgmail.com : note, the 'at' is to fool robots and should be replaced with @ : if it arrives I always reply.
Websites : www.frickers.co.uk/art (marine & aviation)
& www.artfrickers.com (Landscapes & portraits).
Copyright 2022 and legal moral rights for painters :
Fees and our Terms  are among the most generous on the Internet.
Don't hesitate to ask for details.
Gordon Frickers © updated 09.07.2022
You are cordially invited to follow and share The Art of Gordon Frickers on his blog and or www.facebook.com/gordonfrickers.