Sunrise Series, each one a painting as it happened, made 'plien aire'.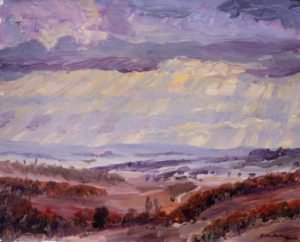 Painting 'plien aire' by Gordon Frickers,  40 x 50 cm (15¾" x 19¾").
Available £/€ 1,250.
> with your credit card Purchase Now  < via Paypal, in any currency, or £/€, or bank to bank; or in instalments by arrangement, contact Gordon Frickers.
How much in my currency

?
Part of 

  The South West France Collection 

. 
The painting :
An overcast dawn, full of promises, radiating warmth and the possibility of heavy warm showers.
I was deliberately imprecise while painting, this after careful pre-planning this  painting.
There was no time for 'details' I focused on colour painting  composition and the  keenest observation I could manage in this rapidly evolving scene.
Colours, tones and composition :
How would the colours, tones and composition reveal themselves given the picture had to be completed is some 20 to 40 minutes?
Here is a mystery rich result which challenges our imaginations, encourages,  suggestive, stimulates whenever we look at the painting, our best creative processes.
Purchase Now  with Paypal or bank to bank
How much in my currency? Try our free XE Currency converter.
Contact US :
E: gordon at frickers.co.uk
T / M: + 33 (0)6 10 66 19 26 or 'gordonfrickers' on whatsapp.
To acquire or commission a similar painting.
Copyright 2020 :
Fees, our Guarantee, our Terms are among the most generous on the Internet so don't hesitate to ask, you will be in honest, experienced hands.
Gordon Frickers © 14,11,2008, updated 25.01.2020