Sunrise paintings over timeless landscapes, looking for the very best in today's painting? You have found one here.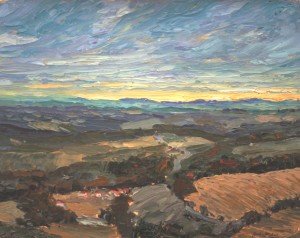 Painting 'plein aire' 40 x 50 cm (15¾" x 19¾"), offers from £1,500.00.
For sale, available, purchase now bank to bank or > with your credit card Purchase Now < via Paypal, in any currency, or in instalments by arrangement, contact Gordon Frickers.
How much in my currency?
Try this free XE Currency converter.
sunrise-23.07-painted as it happened, from the ramparts of Castelnau de Montmiral
Own one of 

  The South West France Series 

. 
The painting, sunrise series
Sunrise brings renewal, warmth and hope…
The old English had a special word – 'uhtceare' – for what we  call 'the wolf light' or pre-dawn anxiety.
Painted as part of the 'Sunrise Series', while asking myself how might this 'Daltonian Plus' painter tackle this subject already painted countless times?
Appreciating too much detail often detracts from the whole impact in this painting I have very deliberately been keeping the art work as abstract as possible, spontaneous, imprecise and yet to be very carefully observed, with a sense of vision, with foresight, creative discernment and adventures, with raised ambitions …
This painting is one of a series produced over several weeks from the same location, the South East corner of the bastide village of Castelnau de Montmiral to discover what happened when this artist painted what he saw as it happened, pushing his abilities and anomalous colour vision to its limits with only some 20 to 40 minutes to put down his impressions?
You could acquire or commission a painting like this.
You can purchase via our 'Payments' page using Paypal or bank to bank
By arrangement payments can be in instalments. How much in my currency? Try our free XE Currency converter. 
To acquire this or commission a similar painting, a pleasure to own, a sound investment, you can purchase in easy stages.
Your Best value is to buy from a dedicated artist- buy from a reputable, established artist direct from his studio.
Email: infoatfrickers.co.uk
Email note, to foil spammers I've used 'at' in the address, : please substitute @ :
T : Mobile +33 (0) 6 10 66 19 26
or free via Whatsapp / Facebook Messenger 'gordonfrickers'
Copyright 2021 :
Fees and our Terms  are among the most generous on the Internet.
Don't hesitate to ask for details.
02.06.2021

Gordon Frickers © 23.07.2003, updated 29.03.15, updated 25.01.2020