Bordeaux, "Famous Wine Villages of Bordeaux"  series  

Best value, buy from a dedicated artist- buy from a reputable, established artist direct from his studio.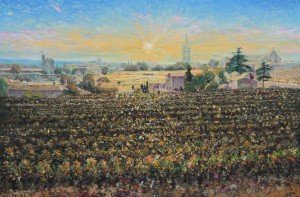 Petite cité de caractère, 59 x 90 cm (23 1/4" x 35 1/2"), oils, available, £1900.00 by Gordon Frickers, (ex studio ex frame).
Looking for the best investments in landscapes?
You have found it here.
About this Painting:
While painting inside this absorbing mini citee I also wished to find a grand landscape typical of Saint Emilion showing as many of the key characteristics as possible of this most charming of Bordeaux towns.
This is Saint Emilion, in it's way one of the most interesting, loveliest towns of France, presented here as a classic view most tourists miss, by
Saint Emilion, one of the 3 most famous names world wide, in red wine.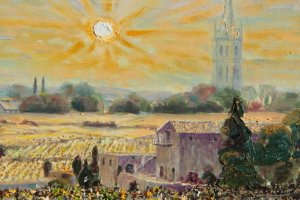 Saint Emilion is surrounded by a 'sea' of vineyards.
Almost literally, this picturesque village, a fortified town, genteelly reeks of the heady aromas of red wine, good cooking and sunshine.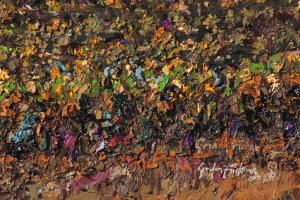 Looking for the new masters of the 21 st century, the very best in modern painting, for your pleasure and as an investment?
You have found one here.
Try our free, user friendly  XE Currency Converter to discover the price in your currency, payments can be made in instalments.
Painting Saint Emilion
Saint Emilion, does this name really need an introduction?
Arguably the most famous name in wine, the name given by a ancient cite, UNESCO classified, of great charm and many a memorable detail a hurrying tourist will never discover.
This classic landscape of Saint Emilion is I recommend best seen at dawn or sunset, the place richly rewards those who take their time, this is a view most tourist miss.
T: + 44 (0)1865 52 2435  Mobile 00 33 (0) 6 10 66 19 26
or Skype 'gordonfrickers'
Email: info at frickers.co.uk
Saint Emilion remains all be it only just, my favourite town in the Bordeaux region.
A dream of mine is to be 'Official Artist in Residence' to Saint Emilion…
For you to acquire or commission a similar painting
T: + 44 (0)1865 52 2435  Mobile 00 33 (0) 6 10 66 19 26
or Skype 'gordonfrickers'
Email: info at frickers.co.uk
Further reading:
Background history, images and the development of this painting.
Copyright 2018:
Copyright fees and our Terms are among the most generous on the Internet, don't hesitate to ask for details by email, whatsapp, or phone+ 44 (0)1865 52 2435 M: + 33 (0)6 10 66 19 26
Gordon Frickers © 24,05,2018 updated 07.06.2018, 17.06.2018, 17.07.2018, 06.10.2018