"Sauternes Sunrise over the Ciron", the inspiration for this painting is rot, Noble Rot…
The 'Picturesque Wine Villages of Bordeaux' collection, available including for exhibition.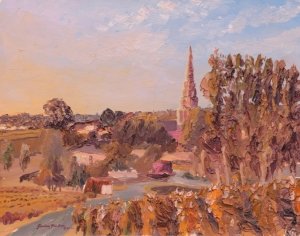 40 x 50 cm (15¾" x 19¾"), available, £ 1200.
one of a pair of very special studies at this location, made from the same 'spot' on different days and demonstrating two aspects of the climate that helps make the wines exclusive and world famous.
Many distinguished people and renowned companies have chosen Frickers paintings as you can discover by reading my illustrated résumée.
Sauternes painting
Sauternes sunrise without mist, having conceived an idea, a visualization, more careful pre-planned than usual was needed for this painting, one of two spontaneous paintings created on different days.
Sauternes Sunrise over the Ciron was to be created as a pair  with "Essential Mists", very fast in a race against time in the chill of first light.
They are a pursuit of the rapidly changing morning light and colour so essential to the extraordinary qualities of Sauternes wines.  in this instance painted as the sun struggled rise for a clear warm Sauternes day, "Sauternes Sunrise over the Ciron" 'painted plien aire' before the sun was fully established in its day light realm.
How many artists would be out before dawn to paint on the location? You won't see many other paintings like this one, enjoy!
Sauternes why so special?
In the autumn the Bordeaux weather is typically warm and dry.
The little Ciron has cooler waters than the nearby major river Garonne.
The different autumnal moist air temperatures from the two rivers often cause mists that descend upon the vineyards at night lingering to late morning.
That mist causes the 'Noble Rot' so essential to the concentration of the sugars in the grapes of Sauternes.
That together with hand picking, sometimes as many as seven passes in an autumn, begins the creation of the incredible Sauternes wines.
To better understand the Valley of the Ciron and Sauternes, see the twin painting dawn with the "Essential Mists".
Would you like to acquire or commission a painting of this quality?
Phone or email us now, before you forget!
You can purchase via our 'Payments' page using Paypal or bank to bank
By arrangement payments can be in instalments. How much in my currency? Try our free XE Currency converter.
Contact Frickers paintings and prints
WhatsApp, Telegram.com or Facebook Messenger to  'gordonfrickers'
Mobile + 6 10 66 19 26, E gordon@nullfrickers.co uk
Email: artistfrickersatgmail.com : note, the 'at' is to fool robots and should be replaced with @
Copyright 2021
Fees and our Terms  are among the most generous on the Internet.
Don't hesitate to ask for details.
Gordon Frickers © updated 27.12.2021