Sauternes, The

'

Picturesque Wine Villages of Bordeaux

'

paintings available including for exhibition.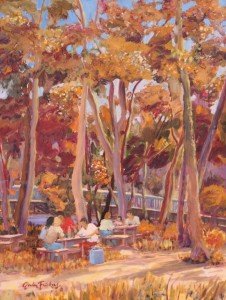 40 x 50 cm (15¾" x 19¾"), an investment at 875 £.
> invest now easily, safely, £ bank to bank or by credit card Purchase Now via Paypal in any currency or in instalments by arrangement, contact Gordon Frickers.
Sauternes Trail
Picnic by the river Ciron
Sauternes wines are given their unique flavour by the autumn mists f the little river Ciron.
This painting was produced 'plien aire' at one of the many beautiful picnic spots on the Sauternes Trail in this instance by the clear waters of the little river Ciron in the commune of Sauternes.
I was attracted by the romantic location shapes colours and scents.
I saw this as a further opportunity to explore the many issues of my colour vision and how to paint trees.
As I worked two families arrived and justified the place name of this little gem in the Commune de Sauternes. 
The river Ciron in autumn makes an essential mist, essential for the flavour of Sauternes wines.
In summer in the Sauternes commune the river Ciron is a popular venue for children of all ages, to swim, kayaking and canoe, boats being hired locally. 
The woods are ideal for hiking and cycling, with many picnic places, a monkey park for children.
For more on the commune de Sauternes contact the office de Tourisme and try Sauternes, I hope you get to enjoy the commune of Sauternes.
Would you like to acquire or commission a painting like this? 
> yours now credit card Purchase Now < via Paypal, in any currency, or £ bank to bank; or in instalments by arrangement, contact Gordon Frickers.
Contact Frickers paintings and prints
Sauternes
is a charming village Gordon Frickers has visited many times.
Gordon Frickers paintings have distinctive, enduring qualities in part because he has an unusually rich form of colour vision, qualities, gifts he has in common with some of the greatest past masters including Cézanne Degas, Dürer, Titian and Rembrandt, Monet.
Gordon Frickers by invitation created a one man show of 35 paintings (May 2011) at the European Parliament, Brussels, an impressive addition to his list of exhibitions in other prestigious venues in Britain and Europe.
Many distinguished people and renowned companies chose Frickers paintings as you can discover by reading my illustrated résumée.
Landline : + 33 (0) 9 79 01 93 20
Mobile : + 6 10 66 19 26, E : artistfrickers at gmail.com
WhatsApp, Telegram.com or Facebook Messenger to  'gordonfrickers'
Email: artistfrickersatgmail.com : note, the 'at' is to fool robots and should be replaced with @ : if it arrives I always reply.
Websites : www.frickers.co.uk/art (marine & aviation)
& www.artfrickers.com (Landscapes & portraits).
Copyright 2022 and legal moral rights for painters.
Sharing my pages and posts for private use helps everyone.
For commercial use our Fees and  Terms  are among the most generous on the Internet.
Don't hesitate to ask for details.
Gordon Frickers © updated 09.12.2022
You are cordially invited to follow my blog & www.facebook.com/gordonfrickers.
Feel free to share my posts so more people can discover these unique paintings and stories, every share also help this site with SEO, thank you.

Many distinguished people and renowned companies have chosen Frickers paintings as you can discover by reading my illustrated résumée.