Picnic by the Ciron
The 'Picturesque Wine Villages of Bordeaux' collection, available including for exhibition.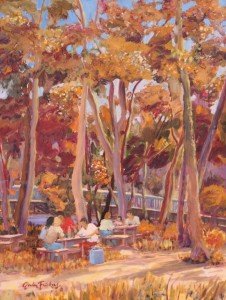 Gordon Frickers, landscape painting measuring 40 x 50 cms (15¾" x 19¾"), oils, available for exhibition and or a new home, ex studio.
Would you like to purchase or commission a painting of this quality?
Contact Us
The painting
This painting was produced 90 % 'plien aire' at one of the many beautiful picnic spots on the Sauternes Trail, in this instance, by the river Ciron in the commune of Sauternes.
I was attracted by the romantique location shapes colours and scents.
I saw this as a further opportunity to explore the many issues of my colour vision and how to paint trees.
As I worked two families arrived and justified the place name of this little gem in the Commune de Sauternes. 
The river Ciron in autumn makes an essential mist, essential for the flavour of Sauternes wines.
In summer the river is a popular venue for children of all ages, to swim, kayaking and canoe, boats being hired locally. 
The woods are ideal for hiking and cycling, with many picnic places, a monkey park for children.
For more on the commune de Sauternes contact the office de Tourisme and try Sauternes, I hope you get to enjoy the commune of Sauternes.
Would you like to acquire or commission a painting like this? 
You can purchase via our 'Payments' page using Paypal or bank to bank
By arrangement payments can be in installments. How much in my currency? Try our free XE Currency converter.
T: + 44 (0)1865 52 2435 or Skype 'gordonfrickers'
Email: info@nullartfrickers.com
You are cordially invited to follow The Art of Gordon Frickers on www.facebook.com/gordonfrickers
Copyright 2016:
Mutually Advantageous, Please Read Carefully.
For professional purposes we are happy to issue licences.
Always credit his name and where possible this web site.
Quoting your source helps your credibility, the artist and others to find and enjoy this art.
For educational and private use we allow a free copy. However please note; as with all artist's work, by International law these pictures and texts belong to the artist and his descendants, so may only be copied after written permission and for commercial use, after a copyright fee has been agreed and paid.
Respect the long hours, years, the art and texts, don't infringe.
Our fees are friendly our terms always reasonable.
Gordon Frickers 15.09.2005 © 22.06.15, updated 25.03.16, 27.08.2016