Wine art: Inspiration is a slippery enigma cloaked in mystery; half an hour of inspiration is worth more than a week of toil.
This study was near complete but worrying me, waiting for a moment of inspiration, most of the work on this painting "Bommes (2)", commune de Sauternes, was carried out last year, it was finished, transformed into a beauty in half an hour last week.
Bommes, a hidden hamlet you would be lucky to find without following the Sauternes Trail, an idea instigated by Madame Decamps, mayoress of Sauternes.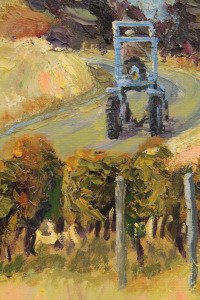 Bommes in the heart of this unique wine commune produces a selection of fine Sauternes wines and yes the tractor really did look like that.
A frequent sight in wine growing regions these tractors are specially designed for work among the vines.
Sauternes wines are unique in flavours, heavily influenced by the autumnal morning mists of the river Ciron.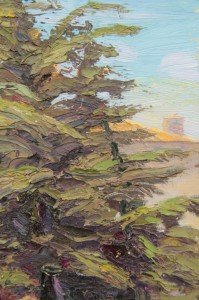 There are opportunities in Sauternes to freely discover and compare the memorable, delicious wines of Sauternes
Bommes by the river Ciron also offers the visitor easy parking with excellent places to picnic in the sunshine or shady forest and to swim safely.
There are a variety of canoes and kyacks for hire from vendors who have won national championships so you can be sure you and your family are in experienced hands.
For further information contact the office of Tourism, Sauternes.
add in an exceptional historical heritage and top it off with the world's most precious vines…
T: + 44 (0)1865 52 2435 or Skype 'gordonfrickers'
Email: info@nullartfrickers.com
~ ~ ~ ~
Follow Gordon Frickers on www.facebook.com/gordonfrickers  
Copyright 2016: Gordon Frickers artwork and texts: For educational and private use for example we will allow a free copy. However please note. by International law these pictures and texts may only be copied after written permission and for commercial use, after a copyright fee has been agreed and paid.
Our fees are friendly our terms always reasonable.
Gordon Frickers © 13.03.15, updated 24.05.15, 22,03,16
~ HOME ~ CONTACT ~ CV / Resumee ~ TERMS ~ ADVERTISE YOUR BUSINESS ~ Buyers Guide ~ ~ COPYRIGHTS ~
+ 44 (0)18 65 52 24 35 / +33 (0)5 80 40 62 43