Bommes, near Sauternes, 'Picturesque Wine Villages of Bordeaux, France ' paintings
 painting 40 x 50 cm (15¾" x 19¾"), available, £ 1200.
 Purchase Now  any curreny, £ preferred, bank to bank or with your credit card using Paypal  
or by arrangement with Gordon Frickers, in instalments.
How much in my currency?  Try this free XE Currency converter.
Many distinguished people and renowned companies have chosen Frickers paintings as you can discover by reading my illustrated résumée.
Bommes painting
This painting came into being as I began to discover the almost hidden pleasures of the tiny village of Bommes which include bathing in the cool little river Ciron, great places to walk, picnic, children's play areas, canoes and kayacks for hire. 
This painting would look GREAT and be fun to have in any a home or office, reminding us to take more quality time in la belle France.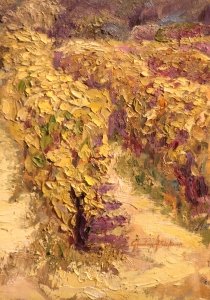 Further reading, photo details, main text
You could acquire or commission a painting like this.
You can purchase via our 'Payments' page using Paypal or bank to bank
By arrangement payments can be in instalments.
How much in my currency? Try our free XE Currency converter.
Contact Frickers paintings and prints
WhatsApp, Telegram.com or Facebook Messenger to  'gordonfrickers'
Mobile + 6 10 66 19 26, E gordon@nullfrickers.co uk
Email: artistfrickersatgmail.com : note, the 'at' is to fool robots and should be replaced with @
Copyright 2021
Fees and our Terms  are among the most generous on the Internet.
Don't hesitate to ask for details.
Gordon Frickers © updated 27.12.2021