Saint-Emilion, paintings celebrating the Bordeaux region of western France,  the most famous names in  wine.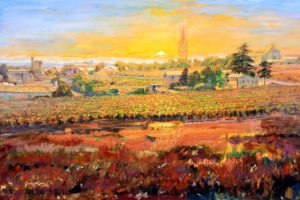 Saint Emilion, painting one of my favourite villages,  61 x 91.5 cm (24" x 36") £ 3000.
> with your credit card Purchase Now  < via Paypal, in any currency, or bank to bank; or in instalments by arrangement, contact Gordon Frickers.
How much in my currency?
 Try this   free XE Currency converter.
Any reputable gallery would be delighted to offer this painting for this price…
Saint-Emilion Painting
One of the 'Picturesque Wine Villages of Bordeaux' series.
Saint Emilion, Bordeaux region of western France is arguably the most famous name in red wines and yet despite this awesome reputation one finds a most charming and picturesque ancient fortified town.
This view over vineyards from the East is a classic yet missed by most tourists who make only a brief visit to this very famous, fascinating and charming little town.
Sunsets are like people in that each have their  own character, this one is a particularly vivid 'Summer Southern France ' sunset.
The Colour beginnings of this study were much discussed with Helene Anselet when I was at Castelnau de Montmiral and  in my salon at Thehillac when fellow painter  Linda Winter and her husband Michael Baker visited.
Saint-Emilion, I've taken much time to thoroughly look around the beautiful commune of Saint Emilion and the walled town so can share with you a few impressions, through the eyes of this artist.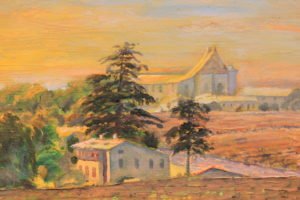 Saint-Emilion, wonderful to be painting in one of my all time favourite places.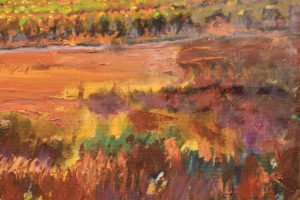 Any reputable gallery would be delighted to offer this painting for this price…
Many distinguished people and renowned companies chose Frickers paintings as you can discover by reading my illustrated résumée.
Gordon Frickers paintings have distinctive, enduring qualities in part because he has an unusually rich form of colour vision, qualities, gifts he has in common with some of the greatest past masters including Cézanne Degas, Dürer, Titian and Rembrandt, Monet.
Landline : + 33 (0) 9 79 01 93 20
Mobile : + 6 10 66 19 26, E : artistfrickers at gmail.com
WhatsApp, Telegram.com or Facebook Messenger to  'gordonfrickers'
Email: artistfrickersatgmail.com : note, the 'at' is to fool robots and should be replaced with @ : if it arrives I always reply.
Websites : www.frickers.co.uk/art (marine & aviation)
& www.artfrickers.com (Landscapes & portraits).
Copyright 2022 and legal moral rights for painters
Sharing my pages and posts for private use helps everyone.
For commercial use our Fees and  Terms  are among the most generous on the Internet.
Don't hesitate to ask for details.
Gordon Frickers © updated 06.11.2022
You are cordially invited to follow my blog & www.facebook.com/gordonfrickers.
Feel free to share my posts so more people can discover these unique paintings and stories, every share also help this site with SEO, thank you.

Contactez Nous




T : 06 10 66 19 26  ou par Whatsapp » gordonfrickers




Email : info @ artfrickers.com





Vous êtes cordialement invités à suivre L'art de Gordon Frickers sur le BLOG et via  

www.facebook.com/gordonfrickers