'Picturesque Wine Villages of Bordeaux Collection'
By Gordon Frickers 40 x 50 cms (16″ x 20″), Oils, available  £1,250
Clos La Madelaine
one of the most distinctive chateau of Saint Emilion this study of the picturesque Clos La Madelaine was painted 'plien aire'.
Clos La Madelaine offers us some of the most distinctive wines of St.Emilion from one of the foremost chateau.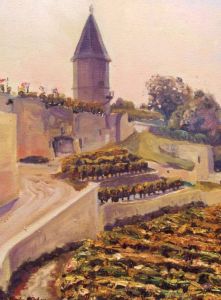 I have visited Clos La Madelaine  several times, always a good sign!
The Cave of the Château is sometimes open for the public, worth checking out.
These hospitable owners used to encourage sampling & learning about the fine wines of this great château, times change the chateau is less accessible now.
T: + 44 (0)1865 52 2435 
or Skype 'gordonfrickers'
Email: info at frickers.co.uk
Copyright 2016: Gordon Frickers artwork and texts: For educational and private use for example we will allow a free copy. However please note. by International law these pictures and texts may only be copied after written permission and for commercial use, after a copyright fee has been agreed and paid.
Our fees are friendly our terms always reasonable.
Gordon Frickers © 19.07.11 updated 23,02,16, 15.10.2017