Saint Emilion, the world famous "Château Ausone" is on the South Eastern edge of the picturesque Saint Emilion, the first you see when approaching by road.
One of The « Picturesque Wine Villages of Bordeaux, France » series.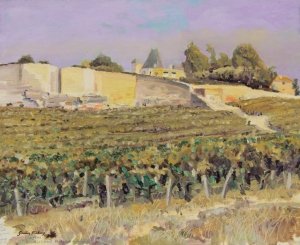 Painting by Gordon Frickers, painting 40 x 50 cm (15¾" x 19¾"), £ / € 1800.
Any reputable gallery would be delighted to offer this painting for this price… 
Purchase Now£/€ while you have the chance, Paypal or bank to bank; life is short, you may not get a second chance …
or by arrangement with Gordon Frickers, in instalments.
The painting / tableau
"The Château Ausone" was painted on location, 'plien aire'.
Today the scene is little changed.
The famous Château Ausone estate occupies a prime site overlooking the Dordogne Valley and besides superb wines, it is particularly noted for its ancient chapelle.
Château Ausone, one of the most ancient properties at St Emilion has an interesting history.
You could acquire or commission a painting like this.
Purchase Now  with Paypal or bank to bank
By arrangement payments can be in instalments. How much in my currency? Try our free XE Currency converter. 
T : Mobile 00 33 (0) 6 10 66 19 26
or Whatsapp 'gordonfrickers'
Email: info at frickers.co.uk
Copyright 2020 fees, our Guarantee, our Terms are among the most generous on the Internet so don't hesitate to ask, you will be in honest, experienced hands.
Gordon Frickers © 23.06.2003, updated 19.07.2020
You are cordially invited to follow The Art of Gordon Frickers on his blog and or https://www.facebook.com/gordon.frickers