Painting "Picturesque Wine Villages of Bordeaux", Bourg, a sea port and fete les musicales, Haut Medoc region, France.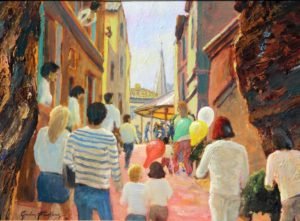 Bourg Ville, jour de fete 40 x 50 cm (16" x 20") £ / € U S $ 550
> with your credit card Purchase Now  < via Paypal, in any currency, or £/€, or bank to bank; or in instalments by arrangement, contact Gordon Frickers.
How much in my currency

?
The painting 
This is my second painting of delightful Bourg, an 'interior, intimate painting of a town often missed by tourists.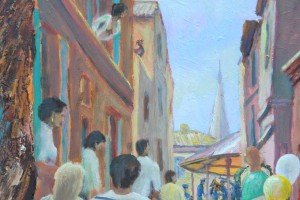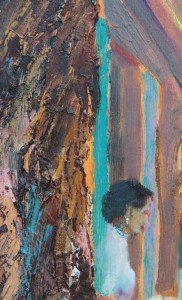 The other painting "Bourg Regatta" is an 'exterior' showing the very public quay and traces for a knowing eye of the former commercial activities in the days of sail. 
In this painting I have been less concerned with detail, more with the feel, emotions, colours and the festive atmosphere.
Today Bourg is tranquil riverside  town, a large village of much charm.
Bourg is a Gironde town whose history was exceptionally turbulent.
Further reading, photo details, main text
You can own this or a similar fine painting via our 'Payments' page using Paypal or bank to bank. You only have to phone or email and ask how.
T : Mobile 00 33 (0) 6 10 66 19 26 or Whatsapp / Facebook Messenger 'gordonfrickers'
Email: info at frickers.co.uk
Copyright 2020
Fees, our Terms , our Guarantee, are among the most generous on the Internet so don't hesitate to ask, you will be in honest, experienced hands.
Gordon Frickers ©, updated 19.09.2020
You are cordially invited to enjoy the fun and fascination of following The Art of Gordon Frickers on his blog and or https://www.facebook.com/gordon.frickers