Sauveterre-de-Guyenne, fête des vins inspired by my stopping by chance for lunch at one of the most spontaneous craziest afternoons I've enjoyed.
Fête des vins  61 x 915 cm (24″ x 36″),  by Gordon Frickers
available £/€ 1500.
> with your credit card Purchase Now  < via Paypal, in any currency, or £/€, or bank to bank; or in instalments by arrangement, contact Gordon Frickers.
How much in my currency

?

 Sauveterre-de-Guyenne, the heart of Entre deux Mers, "Famous Wine Villages of Bordeaux"  series  

Fête des vins :
The afternoon started innocently enough with sampling, speeches and awards.
The very Mediterranean band Los Musaicos (steadily increased the tempo … the Banda du Canton de Targon from Bayonne.
As people settled to their meals and wine began to flow the fête des vins pace quickened, it was not long before people started to dance while many of the band climbed onto tables …
The painting :
Party time, South West France style, the plan is to keep this 'impossible' picture loose, colourful, warm, noisy with a minimum of detail as was the event.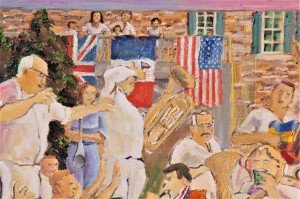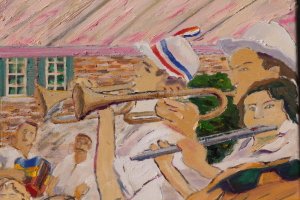 The Fete du Vin at Sauveterre-de-Guyenne.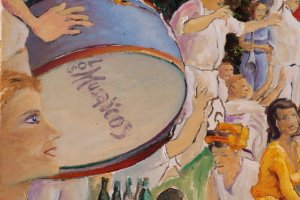 This usually quiet town Sauveterre-de-Guyenne is the principal settlement of the Entre Deux Mers region of Bordeaux.
A 'sound' investment?
Looking for the best in 21 st century art? 
You have found it here.
Email: infoatfrickers.co.uk
Email note, to foil spammers I've used 'at' in the address, : please substitute @ :
T : Mobile 00 33 (0) 6 10 66 19 26
or free via Whatsapp / Facebook Messenger 'gordonfrickers'
Copyright 2021 :
Fees and our Terms  are among the most generous on the Internet, don't hesitate to ask for details.
Gordon Frickers © updated 20.03.2021
You are cordially invited to enjoy the fun and fascination of following The Art of Gordon Frickers on his blog and or https://www.facebook.com/gordon.frickers

Contactez Nous




T : + 44 (0) 1865 52 2435 ou par Skype » gordonfrickers


Email : info@

null

artfrickers.com



Vous êtes cordialement invités à suivre L'art de Gordon Frickers sur 

www.facebook.com/gordonfrickers