Bordeaux, France, painting the fête des vins, Sauveterre, Entre Deux Mers region.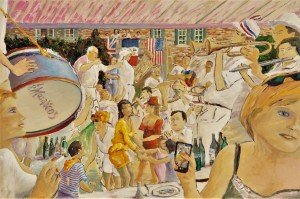 61 x 915 cm (24″ x 36″), available £1800.
> yours now £ bank to bank or by credit card Purchase Now < via Paypal, in any currency, or in instalments by arrangement, contact Gordon Frickers.
How much in my currency?
 Try this   free XE Currency converter.
Many distinguished people and renowned companies chose Frickers paintings as you can discover by reading my illustrated résumée; paintings with unique, enduring qualities.
Bordeaux Paintings
Sauveterre-de-Guyenne a few years back, en route Gaillac to Saint Emilion I stopped for what I thought would be a brief lunch at Sauveterre-de-Guyenne a commune in the Gironde near Bordeaux.
Looking for a seat I found myself invited to join the company, offered copious amounts of wine while I tried to explain I still had an hour's drive ahead of me.
I was told "Don't worry, the chief of police was present and said he had made sure all his men were off duty"; now there is a man who understands law enforcement.
The afternoon inspired this slightly crazy painting with its vivant Mediterranean music by Los Musaicos (you should be able to find them online) you have here or is it hear,  everything except the unforgettable sounds!
I was aware of the festival, unaware I would be invited into the middle of the feté and quite unable to leave for  a very merry 5 hours.
I was unaware this is an annual Bordeaux wine festival.
"Every painting should be an experiment" said John Constable.
In agreement with John Constable I believe in pushing my personal boundaries which for me, this study certainly does and may lead to new ideas, a new style.
I am deliberately keeping this painting loos.
My intention here is to go for the atmosphere rather than the detail of one of the most surprising most spontaneous afternoons in my life.
A timeless painting to give you pleasure every time you see it upon your wall.
Sauveterre-de-Guyenne paintings
Entre Deux Mers is well known for it's fine wines, particularly cool, fruity, crisp white wines.
This old walled town is found at almost the exact center of this Bordeaux department.
The mayor said to me, "you can speak English if you wish. This town changed hands so many times during the 100 Years War we speak both languages".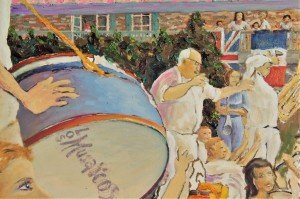 This is a Bordeaux town founded by the English in the heart of 'Entre Deux Mers' (the land between two rivers) Sauveterre-de-Guyenne is a picturesque, with a large 'place' and is generally a calm and tranquil town.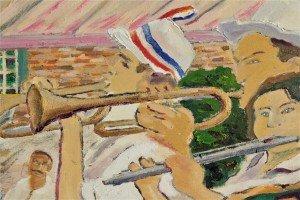 Sauveterre-de-Guyenne was founded as an English Bastide in 1281 by King Edward I of England.
Vive Sauveterre-de-Guyenne.
L'Entre-deux-Mers, Bordeaux France, a relaxed land between two seas, a land rich with history and legends.
To acquire this or commission a similar painting, a pleasure to own, a sound investment, you can purchase in easy stages.
To make a purchase the easiest way is bank to bank, ask for details, or using PayPal via the Purchase Page.
Landline : + 33 (0) 9 79 01 93 20
Mobile : + 6 10 66 19 26, E : artistfrickers at gmail.com
WhatsApp, Telegram.com or Facebook Messenger to  'gordonfrickers'
Email: artistfrickersatgmail.com : note, the 'at' is to fool robots and should be replaced with @ : if it arrives I always reply.
Websites : www.frickers.co.uk/art (marine & aviation)
& www.artfrickers.com (Landscapes & portraits).
Copyright 2022 and legal moral rights for painters :
Fees and our Terms  are among the most generous on the Internet.
Don't hesitate to ask for details.
Gordon Frickers © updated 20.07.2022
You are cordially invited to follow and share The Art of Gordon Frickers on his blog and or www.facebook.com/gordonfrickers.