Bordeaux paintings, Dancing Vines, painting 'plien aire' in France.
28 x 36 cm (11" x 14"), available,  750 £.
Painting a classic 'plien aire' for my 'Picturesque Wine Villages of Bordeaux' series, available including for exhibition.
> yours now £ bank to bank or by credit card Purchase Now < via Paypal, in any currency, or in instalments by arrangement, contact Gordon Frickers.
Many distinguished people and renowned companies chose Frickers paintings as you can discover by reading my illustrated résumée; paintings with unique, enduring qualities.
How much in my currency?
 Try this   free XE Currency converter.
Dancing Vines Plien Aire (detail 1)
Paintings of Bordeaux,
While looking for a landscape to include the ancient bastide of Sauveterre-de-Guyenne I encountered this young tree, a master of ceremonies for these dancing vines, dancing and music being activities much associated with this ancient town.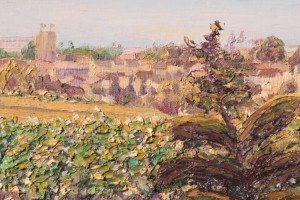 Bordeaux paintings maybe inspired by the moment appealed to my sense of humor, maybe the source of inspiration was a magic afternoon shared with the welcoming people of Sauveterre, fine cuisine, wines, dancing in the tables and the chief of police saying just be sensible, my men are off duty today, this at the annual wine festival held in under a huge marquee in the place de Sauveterre.
T : Mobile 00 33 (0) 6 10 66 19 26
or Whatsapp 'gordonfrickers'
Email: info at frickers.co.uk
Copyright 2020
Fees, our Terms , our Guarantee, are among the most generous on the Internet so don't hesitate to ask, you will be in honest, experienced hands.
Gordon Frickers ©, 15.02.2015 updated 19.08.2020
You are cordially invited to follow The Art of Gordon Frickers on https://www.facebook.com/gordon.frickers