Bordeaux paintings series, tiny Castelmoron d'Albret is one of The most picturesque wine villages.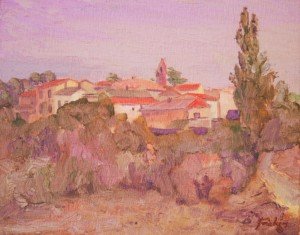 By Gordon Frickers measuring 20 x 25 cm (8″ x 10″), oils on canvas board, SOLD.
> invest now order easily, safely, £ bank to bank or by credit card Purchase Now via Paypal in any currency or in instalments by arrangement contact Gordon Frickers.
We wish you to enjoy your visit, find something you like and follow our posts. Kindly spread the word to all collectors you know to help us make this project a success for those who appreciate fine art and for the whole art community.
Bordeaux paintings
Castelmoron d'Albret  a tiny village with a big reputation.
Castelmoron d'Albret claims to be the Smallest Community in France.
A little painting for une trop petite villege however I would like to return to this picturesque village and paint again.
Today this is a village of flowers, quaint houses, pleasant to explore on foot.
To the East of Sauveterre, well sign posted, well worth a stop while exploring this beautiful district.
The Smallest Community in France? Visit, you decide.
We hope you to enjoy your visit, found something you like and follow our posts. Kindly spread the word to all the collectors you know who enjoy and appreciate fine art, if you think this project deserves success, you can help us make this project widely know, thank you.
Landline : + 33 (0) 9 79 01 93 20
Mobile : + 6 10 66 19 26, E : artistfrickers at gmail.com
WhatsApp, Telegram.com or Facebook Messenger to  'gordonfrickers'
Email: artistfrickersatgmail.com : note, the 'at' is to fool robots and should be replaced with @ : if it arrives I always reply.
Websites : www.frickers.co.uk/art (marine & aviation)
& www.artfrickers.com (Landscapes & portraits).
Copyright 2022 and legal moral rights for painters
Sharing my pages and posts for private use helps everyone.
For commercial use our Fees and  Terms  are among the most generous on the Internet.
Don't hesitate to ask for details.
Gordon Frickers © updated 09.12.2022
You are cordially invited to follow my blog & www.facebook.com/gordonfrickers.
If you appreciate this website please share my posts as this helps more people to discover these unique paintings and stories, every share also help this site with SEO, thank you.