Château de Meyragues
One of The « Gaillac, surprising vines »collection 
a landscape painting measuring 53 x 81 cms (21" x 32"), oils, available, £6,000., ex frame, ex studio.
The painting
The Colour beginnings were much discussed Helene Anselet and  in my salon here when Linda Winter and Michael Baker who visited during July 2016.
One of the subjects we discussed was the proposed painting for my "Gaillac, Surprising Vines" series of château de Meyrargues.
We discussed the location study made on 06.07.16, colour mixing, the architecture and atmosphere before I settled on the design that has become my painting of Chateau Meyragues.
The following shows some of the stages of development, the creative process of this painting, enjoy.
Some details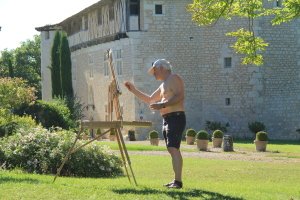 The photographs below follow the
'evolution' of this painting, enjoy.
This painting (below) was produced on location. 'plien aire' on 05/06 of July, subsequently slightly modified in the studio.
This design developed, one of the results.
02.08.16: I was working on this painting yesterday so here is a 'progress report'.
As I write, today,  I am working on 16 paintings in my studio, this being one,  so you can expect a lot of 'artie' posts here, on Facebook, Linkedin and on my blog in the next few weeks.
I plan to develop the paintings here then finish the Gaillac series on location next month; care to join me?
Château de Meyragues was founded during the IX & X centuries, <dont les fondations remontent au IX e ou X e siècle>.
The present owners have dedicated 30 years to gradually restoring the ruined Château de Meyrargues and redeveloping their vineyards.
The former is now a top grade listed building, the latter produce a selection of very fine wines; visit highly recommended.
By arrangement payments can be in instalments. 
How much in my currency? Try our free XE Currency converter.
T: + 44 (0)1865 52 2435 or Skype 'gordonfrickers'
T: + 44 (0)1865 52 2435 
or Skype 'gordonfrickers'
Email: info at frickers.co.uk
I hope you are enjoying this page? Found something you like? You have friends who are interested so kindly share your discovery, spread the word to all who appreciate the sea, fine art and history. You can help other people discover, enjoy, benefit from this remarkable, unique project widely know.
Copyright 2017:
Copyright fees and our Terms are among the most generous on the Internet, don't hesitate to ask for details by email, whatsapp, or phone+ 44 (0)1865 52 2435 M: + 33 (0)6 10 66 19 26
Gordon Frickers © updated 10,08,2016, 15.08.16, 28.08.16, 22.11.2016, 03.04.2017
You are cordially invited to enjoy the fun and facination of following The Art of Gordon Frickers on his blog and or https://www.facebook.com/gordon.frickers