Visite des monuments souterrains, 45 minutes au cœur de la roche.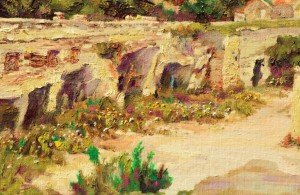 In St Emilion there is a deeper meaning to 'caves' that 'wine merchant'.
'Caves' of St Emilion these days usually means the wine merchants, a specialisation that thrives in beautiful St Emilion.
Many of the wine merchant's shops are in themselves picturesque, they come in many shapes and sizes offering a wide variety of mostly St Emilion wines and Pomerol wines.
The term 'cave' harks back to the days when wine barrels were often literally stored in caves.
The caves were simple, cheap storage with the added benefit of maintaining the steady temperatures most congenial for young wines as they matured in their Tuns.
St Emilion's wine caves, are extensive, some very ancient Wine caves are still in use.
The caves of St Emilion are mostly sited under the town walls in areas only the more persistent visitors discover.
At Saint Emilion for most of the year on a clam day the air is pervaded everywhere with the soft rich sent of the rich red wines preparing to bear the esteemed name of St Emilion.
Saint Emilion underground, the office of Tourism invites you to explore with a 45 minute guided tour the underground surprises,in the heart of the rock, monuments of Saint Emilion.
Saint Emilion has a great heritage and many traditions.
The Tourist Information Centre of Saint Emilion offers introductions and many excellent guided tours.
Are you planning to visit St Emilion?
If yes even if you 'know' the town Gordon Frickers recommends starting your plan by contacting the Tourist Information Centre of Saint Emilion web site.
~ ~ ~ ~
T: + 44 (0)1865 52 2435 or Skype 'gordonfrickers'
Email: info@nullartfrickers.com
Copyright:
These pictures and texts may only be copied after written permission and a copyright fee has been paid.
Our fees are reasonable, in some cases a free use is permitted. Better to contact us than have our lawyers contact you.
Gordon Frickers © 17.03.15