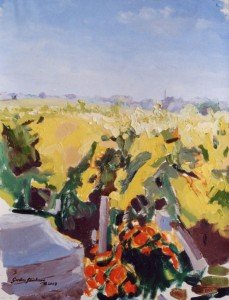 By Gordon Frickers, measuring 33 x 22 cms (13" x 9") oils on oiled paper, available, ex studio, ex frame.
You could buy or commission a painting like this
T: + 44 (0)1865 52 2435 or Skype 'gordonfrickers'
Email: info@nullartfrickers.com
How much in my currency? Try our free XE Currency converter.
The Painting
A distant view plainted 'pilen aire'.
A semi abstract radiating light and warmth, a rich resource for your imagination, reminding you to visit and sample Pomerol, a picture that is a worth addition for any room
The Village
To people interested in wines 'Pomerol' is one of the first names we learn.
If you sample Pomerol wines the moment will stay with you for life.
This tranquil village at the heart of such renowned vineyards is will worth a visit, stroll around, absorb the ambiance and best of all take your time to explore the surrounding vineyards and countryside.
~ ~ ~ ~
You can acquire a painting like this via our 'Payments' page using Paypal or bank to bank
By arrangement payments can be in installments.
For a painting like this
Copyright 2016:
Mutually Advantageous, Please Read Carefully.
For professional purposes we are happy to issue licences.
Always credit his name and where possible this web site.
Quoting your source helps your credibility, the artist and others to find and enjoy this art.
For educational and private use we allow a free copy. However please note; as with all artist's work, by International law these pictures and texts belong to the artist and his descendants, so may only be copied after written permission and for commercial use, after a copyright fee has been agreed and paid.
Respect the long hours, years, the art and texts, don't infringe.
Our fees are friendly our terms always reasonable.
T: + 44 (0)1865 52 2435 or Skype 'gordonfrickers'
E: info@artfrickers.
Gordon Frickers © 07.03.15, updated 05.06.15, 28.08.2016