"Pomerol, Baby Vines"
by Gordon Frickers, 51 x 81 cms (20" x 32"), oils, available, £5,000.  (ex studio ex frame)
You could own this painting or one like it …
Try our free, user friendly  XE Currency Converter to discover the price in your currency, payments can be made in installments.
The Painting:
The sight of the baby vines, the future of Pomerol, painted under a luminous sky has a timeless appeal.
Thus this elegant painting speaks of Pomerol past, present and future.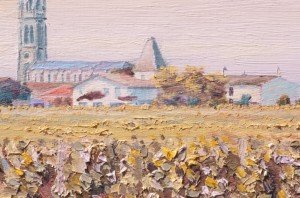 The formidable reputation of Pomerol, an outstanding reputation, several châteaux from the Right Bank have become status symbols. that lead me to look carefully under the towering skies and mostly flat plateau lands of Pomerol.
There is much less of a salt water maritime influence on the Right (North) Bank to draw our artist from the sea…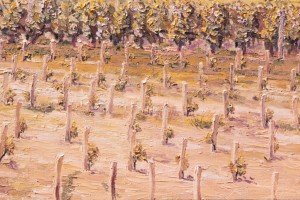 The history of Pomerol goes back a long way, quality remains high, some people even prefer Pomerol wines to Saint Emilion; a formidable reputation means Pomerol growers can not rest on their laurels.
Plus I recalled from adolescence, Pomerol was one of his Father's three preferred red wines.
+ 44 (0)1865 52 2435
Skype 'gordonfrickers'
Email info@nullfrickers.co.uk
Copyright 2017:
Copyright fees and our Terms are among the most generous on the Internet, don't hesitate to ask for details by email, whatsapp, or phone+ 44 (0)1865 52 2435 M: + 33 (0)6 10 66 19 26
Gordon Frickers © 15.02.2015 updated 01,07,2017