One of The « Bordeaux, Famous, Picturesque Wine Villages» Collection.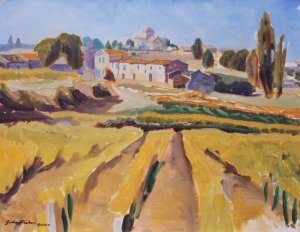 By Gordon Frickers, measuring 34 x 46 cm (13½" x 18″) sold.
Looking for the very best in wine art? You have found it here: Timeless paintings, the test of true classics.
To  commission a similar painting
Contact US ~ T:+ 44 (0)1865 52 2435  or Skype 'gordonfrickers'
 whatsapp, or phone M: + 33 (0)6 10 66 19 26
Email ~ Important ! please substitute 'at' for @: artistfrickersatgmail.com
The painting
A painting that finished itself, made as a 'plien aire' study at this charming village in the Commune of Saint Emilion.
Time conspired, it did not allow Gordon Frickers to return.
Nevertheless, a charming spontaneous #artwork , an original, loose interpretation that invites us to fill in the details with our imagination.
Montagne de Saint Emilion, a few kilometers North of Saint Emilion, produces Saint Emilion wines with a touch less tannin so fruitier.
~ ~ ~ ~
You can acquire a painting like this via our 'Payments' page using Paypal or bank to bank
Contact US ~ T:+ 44 (0)1865 52 2435  or Skype 'gordonfrickers'
 whatsapp, or phone M: + 33 (0)6 10 66 19 26
Email ~ Important ! please substitute 'at' for @: artistfrickersatgmail.com
Copyright 2018

 

fees and our Terms are among the most generous on the Internet, don't hesitate to ask for details

 
Gordon Frickers © 10.03.2015 updated 28,03,16, 28.08.2016, 05.04.2018
You are cordially invited to follow The Art of Gordon Frickers on his blog. www.frickers.co.uk/art/blog