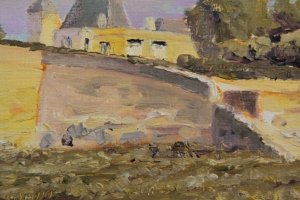 Château Ausone painted here on location, 'plien aire', is one of the most historic of the many châteaux in the Saint Emilion commune.
Painted from the roadside; by 2015 the scene is little changed, you can stand on the very spot the artist worked from and see for yourself.
Le château Ausone, est un domaine viticole de sept hectares situé à St Emilion en Gironde.
T: + 44 (0)1865 52 2435  Mobile 00 33 (0) 6 10 66 19 26
or Skype 'gordonfrickers'
Email: artistfrickers at gmail.com
 Simply, securely;  to place a deposit or payment on our Payment page  to make this or a similar painting, your Gordon Frickers original painting (or acquire subject to availability, a beautiful Heritage quality print)?
Château Ausone est l'une des plus anciennes propriétés de St-Émilion.
Environ 15 000 à 18 000 bouteilles de Château Ausone sont produites chaque année. Château Ausone constitue l'archétype du vin puissant et très aromatique de St Emilion.
Situated a few hundred meters South West of the town's medieval walls, Château Ausone  is planted on the deep limestone bedrock that has been the raw source of the town.
The wines of Château Ausone are considered typical and among the very finest St Emilion has to offer the connoisseur.
During the last week of May 2015 I changed the sky and my signature other wise this remains the same painting.
The original is now framed, cet tous.
I intend to show this painting to  the owner Alain Valien of the Château Ausone.
He asked me to do so all be it years ago while I was on location painting the picture.
M. Valien stopped his car to look.
M. Valien introduced himself, at the time I was unaware Ausone is one of the most famous chateau in the region.
An almost timeless, splendid tranquil scene, you can see the lush grapes as painted 'plien aire', you can almost feel the heat of that day the artist produced this landscape painting of Château Ausone.
The distinctive roof of this chapelle is one of the dominant features of this paintings skyline.
La chapelle Mary Magdalena d'Ausone a Saint Emilion.
This chapelle of great antiquity is noted for its paintings which are of surprisingly complex iconography.
Some of the paintings probably date back to the early 13th century when the chapelle was commenced, with subsequent additions mostly in the 14th century, a period of intense pictorial activity in Saint Emilion.
The Château Ausone estate occupies a prime site overlooking the Dordogne Valley and besides superb wines, it is particularly noted for its ancient chapelle.
Château Ausone, one of the most ancient properties at St Emilion has an interesting history
You could acquire or commission a painting like this.
You can purchase via our 'Payments' page using Paypal or bank to bank
By arrangement payments can be in instalments. How much in my currency? Try our free XE Currency converter.
T: + 44 (0)1865 52 2435 or Skype 'gordonfrickers'
Email: info@nullartfrickers.com
Gordon Frickers © updated 05.06.15
Copyright 2017:
Copyright

 fees and our 

Terms

 are among the most generous on the Internet, don't hesitate to ask for details  
T:+ 44 (0)1865 52 2435 
Email:

artistfrickers at gmail.com
Skype (gordonfrickers)
whatsapp, or phone M: + 33 (0)6 10 66 19 26
Gordon Frickers ©  21.05.15 updated 15,10,2017