St Emilion can be explored on several levels from the top of the The Castel Daou Rey to the labyrinth of caves deep below.
One of The « Picturesque Wine Villages of Bordeaux » series.
By Gordon Frickers, measuring 33 x 22 cms (13" x 9") oils on oiled paper, sold.
You could buy or commission a painting like this…
T: + 44 (0)1865 52 2435 or Skype 'gordonfrickers'
Email: info@nullartfrickers.com
How much in my currency? Try our free XE Currency converter.
Most visitors miss the charms and peace of the old city alley ways.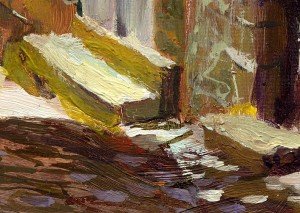 As you stroll around St Emilion picturesque Castel Daou Rey built in the Norman style and open to visitors is one of the two most dominate structures.
Savour St Emilion, it will delight your eyes, nose and palette; guaranteed.
~ ~ ~ ~
You can acquire a painting like this via our 'Payments' page using Paypal or bank to bank
By arrangement payments can be in instalments.
For a painting like this
T: + 44 (0)1865 52 2435 or Skype 'gordonfrickers'
E: info@artfrickers.
We hope you to enjoy your visit, found something you like and follow our posts. Kindly spread the word to all the collectors you know who enjoy and appreciate fine art, if you think this project deserves success, you can help us make this project widely know, thank you.
Copyright 2016:
Mutually Advantageous, Please Read Carefully.
For professional purposes we are happy to issue licences.
Always credit his name and where possible this web site.
Quoting your source helps your credibility, the artist and others to find and enjoy this art.
For educational and private use we allow a free copy. However please note; as with all artist's work, by International law these pictures and texts belong to the artist and his descendants, so may only be copied after written permission and for commercial use, after a copyright fee has been agreed and paid.
Respect the long hours, years, the art and texts, don't infringe.
Our fees are friendly our terms always reasonable.
Gordon Frickers © 07.03.2015 updated 28,03,16, 28.08.2016, 
You are cordially invited to follow The Art of Gordon Frickers on his blog and or https://www.facebook.com/gordon.frickers