An amber evening, Sauternes is truly a village of liquid gold.
'Picturesque Wine Villages of Bordeaux' collection, available including for exhibition.
Are you reminded of the pleasures of eating out at romantic locations?
For sure I can recommend the gourmet, inexpensive meals of the Auberge in this tiny yet world famous village of #Sautenes in South West #France.
There are many evenings with a light and soft sweet, as memorable as the amber wines of Sauternes in a charming little village with a huge International reputation.
By Gordon Frickers measuring 40 x 50 cm (15¾" x 19¾"), available, £1850., any decent gallery would ask at least double for this fine art work : ex frame, ex studio.
Purchase Now  , Paypal or bank to bank;
or by arrangement with Gordon Frickers, in instalments.
T : Mobile 00 33 (0) 6 10 66 19 26
or Whatsapp 'gordonfrickers'
Email: info at frickers.co.uk
The painting:
Sauternes, a peaceful village of some 650 inhabitants, Sauternes is set among gentle hills, vineyards and forests.
When you visit the 'Maison de Sauternes' where you can sample for free and with no obligation to buy, over 100 Sauternes, the variety of the wines may surprise you.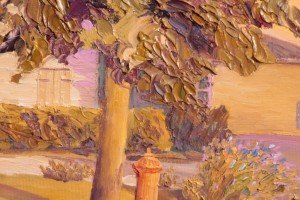 Sold yet?
~ 'Phone:+ 44 (0)1865 52 2435  or'gordonfrickers' on  whatsapp, or phone M: + 33 (0)6 10 66 19 26
Email ~ Important ! please substitute 'at' for @: artistfrickersatgmail.com
Looking for the very best in marine art? You have found it here: Timeless paintings, the test of true greatness.
This painting in colours so evocative of the rich unforgettable amber wines was made in rue Principal and is typical of the warm summer evenings when it's so good to eat outside.
Sauternes, the word can be savoured as if it has a taste…
If you have not already visited Sauternes, you are in for a treat !
Buy Now, while you have this chance, a fine art print on canvas, numbered, signed,  via our Marine Art Prints or 'Payments' pages using Paypal or bank to bank
T : Mobile 00 33 (0) 6 10 66 19 26
or Whatsapp 'gordonfrickers'
Email: info at frickers.co.uk
Copyright 2020 fees, our Guarantee, our Terms are among the most generous on the Internet so don't hesitate to ask, you will be in honest, experienced hands.
Gordon Frickers © 20.03.2020, updated 10.05.2020
Gordon Frickers © 01.03.2013 updated 28.05.2020