Combined, old and new in a renovation and modernisation, La Marie de Sauternes.
'Picturesque Wine Villages of Bordeaux' collection
By Gordon Frickers, Date: 2003, medium: oils, size: 40 x 50 cms (15¾" x 19¾"), oils, one of 3 studies, 2 remain available. 
Ex Frame, ex Studio.
~ ~ ~ ~
You can acquire a painting like this via our 'Payments' page using Paypal or bank to bank
By arrangement payments can be in installments.
~ ~ ~ ~
The Painting
La Mairie, (the town hall) and the gardens of the 'place' had after consultation with the villages, recently had completed a major and very tasteful renovation supervised by the mayor Dr. Dechamps.
Painted 'plien aire', one of 3, the first original was acquired by the municipal where today it has pride of place in the public meeting room.
"La Mairie, Sauternes" was used as their Christmas cards by the municipal.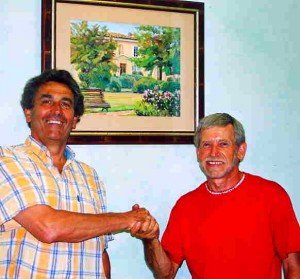 The south part of this peaceful village has a modern feel, an open "Place" with gardens, seats, various national flags all laid out to create a 'place' with space, light & calm with the elegant town hall standing in its own gardens.
The buildings have been thoughtfully renovated, today a worthy subject for painting and poetry.
This is the business end of the village.
Opposite La Mairie is the Maison de Sauternes, highly recommended for a visit. there with friendly staff and no obligation to buy you can begin to sample some of the 67 varieties of Sauternes, the precious ambers of Sauternes and if you are willing, engage in conversations about the surprising variety, an introduction to the wines of Sauternes.
The town hall stands discreetly in it's own gardens & pathways.
La Mairie 33210 Sauternes Tél:05.56.76.61.12
Fax : 05.56.76.63.08
mairie@nullsauternes.com
Office de Tourisme de Sauternes, Rue Principale, 33210 Sauternes.
Parking is easy, the bi lingual staff are were welcoming, & efficient. Accommodation was soon found, I was helped to plan an itinerary and I bought the T shirt.
Auberge Les Vignes
Adresse :  23 Rue Principale 33210 Sauternes Tél.: 05.56.76.60.06
~ ~ ~ ~
You can purchase via our 'Payments' page using Paypal or bank to bank
By arrangement payments can be in installments.
You could acquire or commission a painting like this
T: + 44 (0)1865 52 2435 or Skype 'gordonfrickers'
E: info@artfrickers.
Copyright 2016: Gordon Frickers artwork and texts: For educational and private use for example we will allow a free copy. However please note. by International law these pictures and texts may only be copied after written permission and for commercial use, after a copyright fee has been agreed and paid.
Our fees are friendly our terms always reasonable.
Gordon Frickers 18.06.2003 © 19.02.15 updated 20,03,16, 27.08.2016