Sauterenes, a charming village of some 650 souls yet with an immense reputation.

 Bordeaux, "Famous Wine Villages of Bordeaux"  series  

Welcome aboard:
Navigation: click on the picture for a larger image, click on the blue hyperlinks to find a collection and access individual paintings.
The Imperial Classification of 1855 recognized 'Sauternes' and in particular Chateau Yquem, the latter has the only white wine in THE top 10 classification.
Sauternes grapes are hand picked only when exactly ready thus up to 7 gatherings are made each season, discover more in the text below and among the paintings, enjoy.
'Picturesque Wine Villages of Bordeaux' collection, available including for exhibition.
To give you a speedy over view this page has two forms, discover, enjoy, add a painting to your collection.
Click on the images to see a larger version, click on the blue highlighted titles to discover the individual pages.
The exclusive grapes of Sauternes are hand picked only when ready. This means as many as 7 passes over the vines are made each year.
Quick view and links to the paintings: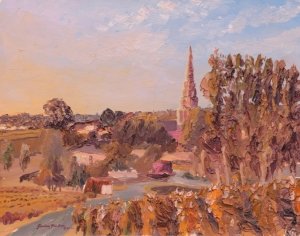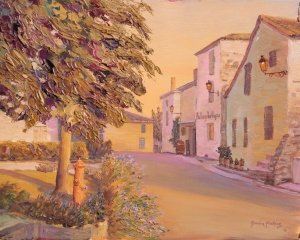 Sauternes & Commune,  idyllic Sauternes gives its name to a white or rather amber wine that is justifiably famous all over the world.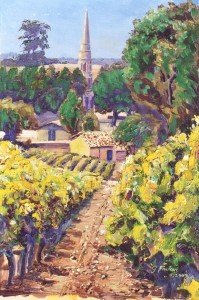 Sauternes and its commune of villages in the Graves district of Bordeaux, France is 40 km (25 miles) southeast of Bordeaux city.
Sauternes is  ancient with pre Roman roots (Aquitania Province).
This is a village of some 650 souls, it includes 2 restaurants, a cafe, the bakery, the tourist information and the Maison de Sauternes maisondesauternes@nullworldonline.fr the foremost tourist attraction.
At the "Maison des Sauternes" many young Sauternes can be freely sampled so it's a very good starting place for a guided understanding of these the unforgettable wines and a bonus, your favourites can be purchased.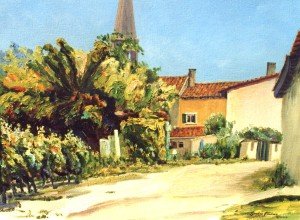 The roads are narrow, the vineyards modest, most are family businesses.
Sauternes 'wine trail', discreet signposts that lead the you effortlessly through the principal scenic delights of the district  and of course, the best chateaux.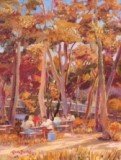 Further Reading about Sauternes and these paintings
For more information try L'Office de Tourisme, Sauternes.
T: + 44 (0)1865 52 2435  E: gfrickers (at) artfrickers.com
Copyright 2016: You can help and respect Gordon Frickers art work, the long hours, years, his art and texts.
Always credit his name and where possible this web site. Quoting your source helps your credibility, the artist and others to find and enjoy this art.
For educational and private use for example we allow a free copy. However please note; as with all artist's work, by International law these pictures and texts belong to the artist and his descendants, so may only be copied after written permission and for commercial use, after a copyright fee has been agreed and paid.
Our fees are friendly our terms always reasonable.
Gordon Frickers © 02.04.13 updated 30.03.15, 09.06.15, 15.02.16 20,03,16, 25.03.16