I don't really like showing this sort of work unfinished yet admit is does now look 'interesting', pregnant with colour and possibilities.
The old town of Blaye has much charm to recommend it so is well worth exploring.
To the left of the painting you can see being teased out of the paint and canvas the gatehouse and bridges that access a massive and classic 17 th century fortification that is almost a town in it's self.
If you enjoyed the "Richard Sharpe" novels by Bernard Cornwell and the TV series starring Sean Bean, although no Sharpe stories were set at Blaye, the nearest being set at La Teste-de-Buch, the old fort at entrance to the spectacular bassin de Arcachon a couple of  hour's drive south of Bordeaux,  you have my word of honour 
you will find the citadel of Blaye an absolute treat, well worth exploring.
16.05.16
Painting now developing nicely, inspiration took its time this time but then I was ill for 4 weeks and 2 weeks in England before that.
Picturesque Blaye with it's magnificent ancient citadel (open to the public) Blaye is overlooked by many tourists.
'Picturesque Wine Villages of Bordeaux' series.
Gordon Frickers, Blaye, a landscape painting being created, measuring 53 x 81 cms (21" x 32")  to be  oils…
For those who enjoy following the progress here in reverse order, newest first, is an update of this painting 03.06.15.
Powering in, the painting begins, the beginning of a new painting of measuring 503 x 91 cms (21″ x 36″)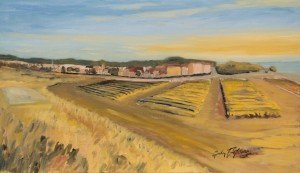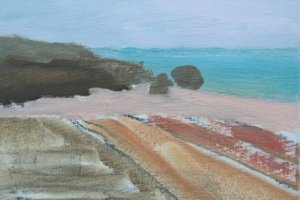 Blaye, one of the largest jewels in the Bordeaux region's crown, Blaye pronounced like bligh as in William Bligh; are the two are connected?
It's many attractions include a magnificent historic citadel open to the public, certainly recommended, a ferry link to the Medoc and good shopping in a charming town.
The old town of Blaye has much charm to recommend it so is well worth exploring.
Blaye is a town protected by a massive classic 17 th century fortification that is almost a town in it's self and well worth exploring.
The extensive citadel was built as one of three 'state of the art' forts intended to seal the approach to Bordeaux and facilitate more efficient tax collection.
Blaye retains a hints of a sea port atmosphère which includes a car ferry service to the opposite bank of the Gironde estuary to The Medoc.
You are cordially invited to follow The Art of Gordon Frickers on www.facebook.com/gordonfrickers
You can purchase via our 'Payments' page using Paypal or bank to bank
By arrangement payments can be in instalments. How much in my currency? Try our free XE Currency converter.
T: + 44 (0)1865 52 2435 or Skype 'gordonfrickers'
Email: info@nullartfrickers.com
Gordon Frickers © updated 
Copyright 2016: Gordon Frickers artwork and texts: For educational and private use for example we will allow a free copy. However please note. by International law these pictures and texts may only be copied after written permission and for commercial use, after a copyright fee has been agreed and paid.
Our fees are friendly our terms always reasonable.
Gordon Frickers ©26.05.15, updated  03.06.15, 20,03,16, 31.05.16