This landscape painting  measures 50 x 81 cms  (20″ x 32″).  Full on, spot on.
I'm sometimes asked if I would paint some one's home. This is always fascinating and often good fun.
In this case my people had seen my work on the Internet, did not know what they wanted beyond a painting of their home and were willing to risk inviting me, brave souls, I like that.
After some discussion by phone I was invited to visit.
  We discovered what my people really wanted was to show the chateau in it's environment.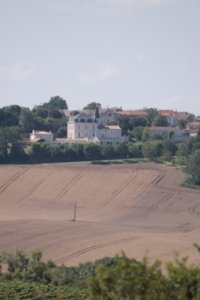 The classic Chateau Les Tonnells, is near Mirambeau in the south of Charante Maritime on the edge of the Haut Medoc wine region. 
I arrived after a 5 hour drive to a very welcome cuppa' tea then straight into a tour of the area with my clients, a promising start.
This splendid Chateau, built in the 19 th century was modernized by the previous owner.
We drove slowly stopping often so I could get out to look for possible views and take photographs. I use a Canon camera and accessories.
Later I reviewed the photos with my people on my laptop and asked them a series of pertinent questions to draw out from them what they really wanted.
Happily I know form long experience how to discover the clients 'brief' even if they are themselves unsure.
Not a long time before the renowned adventurer Pete Goss wrote to me "I got exactly the picture I'd hoped for" an awesome compliment after I'd painted the awesome "Spirit of Mystery, Southern Ocean" under similar circumstances : (available as a signed 'Heritage' quality print) for Pete.
This time there were 3 people to consider, Father, son in law and daughter  each with their own points of view. No prob, we soon established common ground among them.
We decided the new painting would be a view of the chateau in its environment based upon the view one first sees when arriving from the North, as they see their French home when they arrive from England for a vacation.
They already have the beautiful "St Emilion Sunset" so we agreed early morning light with at their suggestion, some mist in the valley would make a delightful complimentary picture.
The next day I re toured the district, this time alone.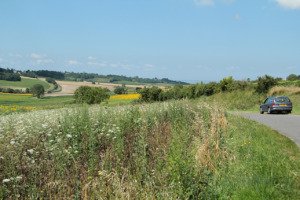 We then had a further meeting during which I presented the fruits of my work.
To compensate for my Sony  laptop having a 17″ screen I'd made a quite large sketch to better demonstrate an aspect that particularly interested them, the relationship between chateau and its environment.  
The next day I  laid out a painting that fitted perfectly the brief that prior to my visit my people did not know they had.
Upon seeing that study on the canvas they were able to envisage and approved the design that would become the 'actual' painting.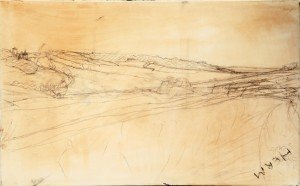 Then the painting took control.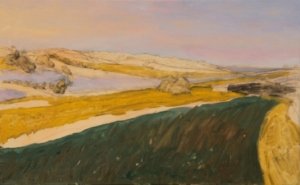 This landscape painting has demanded delicate glazes and much thick 'impasto' paint.
The original has a notable texture in places 5  millimeters deep.
So much paint may take a year to fully dry, worth it though, I have learnt ways to produce effects that are magical, changing with the light. But; it takes time to work that magic.
Happily I was given all the time I needed.
Whilst I can if needs demand work very fast this picture benefited by a stay in my studio while the raw paint settled.
Paint changes colour as it drys.
I have plenty of experience of this phenomena.
I allow for it while the material is wet.
Painting is and remains an art of surprises, colours can change, I think 'fine tuning' makes that last 3 % of difference, with a little luck, time to think and inspiration, lifting a work from  good to great.
In this instance my people were wise and patient giving me the time to watch, meditate and fine tune the drying art work.
Among other things I noticed the fore ground and back ground looked a little 'detached' from one another. 
I found a solution among the trees tops.  
That solution include delicate adjustments to tints and form of the nearest sunflower, the main subject (the chateau) and the misty light in the valley.

My special thanks to these people for their sensitivity and confidence in me, they had never before commissioned a painting yet found a way to help me give of my best.  
You could acquire or commission a painting like this.
By arrangement payments can be in installments.
How much in my currency? Try our free XE Currency converter.
T: + 44 (0)1865 52 2435 or Skype 'gordonfrickers'
Email: info@nullartfrickers.com
You are cordially invited to follow The Art of Gordon Frickers on www.facebook.com/gordonfrickers
Gordon Frickers © 11.06.15. updated 12.06.15
Copyright:
In some cases, educational and private use for example free use is permitted. By International law these pictures and texts may only be copied after written permission and a copyright fee has been paid.
Our fees are friendly our terms very reasonable.