Wine art? 
Château Les Tonnells the subject of this painting produces no wine however…
The new owners found the wine art of Gordon Frickers via his web sites.
Having visited the web sites several times one of them phoned the artist.
They decided to buy 3 paintings and asked if it would be possible to have a fourth made of their château.
They had no idea what they specifically wanted, they just knew they would love a painting of their château.
After some discussion it was agreed the artist would need 2 or 3 days on location and a little of their time together.
They found a nearby gite and issued an invitation.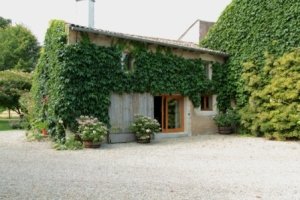 On arrival at Château Les Tonnells Gordon Frickers spent time listening to how the owners, all the family all felt about their home then he thoroughly explored the district.
He had noted they would like a scene that included the château but was not dominated by the building.
The château in its environment.
They'd said they were very fond of their first view upon arrival which includes the distant sea, of their home and valley as seen when arriving for a vacation.
Gordon Frickers began by touring, exploring the district.
The following afternoon Gordon gave a presentation of the options.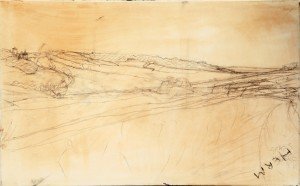 With his guidance a decision that satisfied all the family was quickly made.
The following day Gordon was on location before dawn to check out the lighting and morning mists.
Next he made a sketch which was approved followed as you can see here by drawing the scene on a canvas on location.
With everyone happy there was time the next day to sort out a few details and for all to enjoy an amicable long French lunch together at a restaurant on the quay of a nearby port.
Finally the painting was produced in Frickers studio.
The clients chose a hand made frame to match with their other new Gordon Frickers paintings, the artist personally delivered the finished work a few months later, diverting while en route Gaillac to Plymouth.
Château Les Tonnells and the valley it overlooks are very typical of the Haut Medoc region so for that reason and because the owners made painting this 'full on' commission for them Château Les Tonnells becomes one of the very few Château included in this series.
You are cordially invited to follow The Art of Gordon Frickers on www.facebook.com/gordonfrickers
If you 'share' and 'like' that helps this web site, the Facebook page and the artist, thank you.
You could acquire or commission a painting like this.
You can purchase via our 'Payments' page using Paypal or bank to bank
By arrangement payments can be in instalments. How much in my currency? Try our free XE Currency converter.
T: + 44 (0)1865 52 2435 or Skype 'gordonfrickers'
Email: info@nullartfrickers.com
Gordon Frickers © updated 26.05.15, updated 12.06.15
Copyright:
In some cases, educational and private use for example free use is permitted. By International law these pictures and texts may only be copied after written permission and a copyright fee has been paid.
Our fees are friendly our terms very reasonable.