Bourg, Haut Medoc region, les musicales, one of the " Picturesque Wine Villages of Bordeaux" series.
A  landscape painting, measuring 40 x 50 cms (16" x 20"), oils, available, price on application.
Contact Us
The painting 
This is my second painting of delightful Bourg, an 'interior, intimate painting of a town often missed by tourists.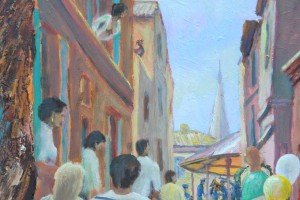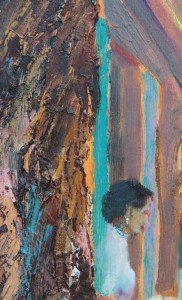 The other painting "Bourg Regatta" is an 'exterior' showing the very public quay and traces for a knowing eye of the former commercial activities in the days of sail. 
In this painting I have been less concerned with detail, more with the feel, emotions, colours and the festive atmosphere.
Today Bourg is tranquil riverside  town, a large village of much charm.
Bourg is a Gironde town whose history was exceptionally turbulent.
Further reading, photo details, main text
You can own this or a similar fine painting via our 'Payments' page using Paypal or bank to bank. You only have to phone or email and ask how.
By arrangement payments can be in instalments. How much in my currency? Try our free XE Currency converter.
T: + 44 (0)1865 52 2435 or Skype 'gordonfrickers'
Email: info@nullartfrickers.com
You are cordially invited to follow The Art of Gordon Frickers on www.facebook.com/gordonfrickers
Copyright 2016:
Mutually Advantageous, Please Read Carefully.
For professional purposes we are happy to issue licences.
Always credit his name and where possible this web site.
Quoting your source helps your credibility, the artist and others to find and enjoy this art.
For educational and private use we allow a free copy. However please note; as with all artist's work, by International law these pictures and texts belong to the artist and his descendants, so may only be copied after written permission and for commercial use, after a copyright fee has been agreed and paid.
Respect the long hours, years, the art and texts, don't infringe.
Our fees are friendly our terms always reasonable.
 Gordon Frickers ©  20.06.15, updated 12.02.16, 22.08.16
You are cordially invited to enjoy the fun and fascination of following The Art of Gordon Frickers on his blog and or https://www.facebook.com/gordon.frickers