One of The 'Picturesque Wine Villages of Bordeaux' collection, available including for exhibition.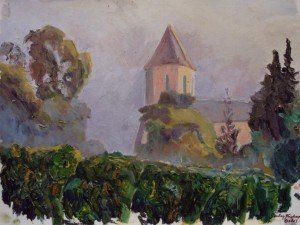 By Gordon Frickers, measuring 50 x 40 cms (20" x 16"), oils, available, £900.00.
The painting
Literal leap into the unknown, 24.09.2003,  I particularly wanted to paint a morning mist; I almost missed it.
I painted this scene of Saint Brice on location as it happened,
On this particular morning I found myself locked in my chambre d'ote (guest house).
Unfortunately I'd had left my house key in my car… which  as you may have already guessed, was not in the house.
Fortunately my room had a floral balcony; I jumped from the first floor window balcony.
On location before dawn to prepare and paint,  I returned in time for a well earned breakfast.
Saint Brice Village
This charming village is said to be at the exact centre of this region, Entree de Mere, were better to base your tour?
Entree de Mere, a region of gently rolling hills and dales as its name implies, between the two great tidal rivers Dordogne and Garonne , salt water therefore sea to medieval folk, were better to base your tour?
Gordon Frickers discovered his host had a keen interest in the voyage of Laperouse (see Laperouse arriving at Botany Bay) so naturally the two enjoyed fine conversation.
We hope you to enjoy your visit, found something you like and follow our posts. Kindly spread the word to all the collectors you know who enjoy and appreciate fine art, if you think this project deserves success, you can help us make this project widely know, thank you.
~ ~ ~ ~
You can acquire a painting like this via our 'Payments' page using Paypal or bank to bank
By arrangement payments can be in installments.
For a painting like this
T: + 44 (0)1865 52 2435 or Skype 'gordonfrickers'
E: info at artfrickers.com
Copyright 2017:
Copyright

 fees and our 

Terms

 are among the most generous on the Internet, don't hesitate to ask for details  
T:+ 44 (0)1865 52 2435 
Email:

artistfrickers at gmail.com
Skype (gordonfrickers)
whatsapp, or phone M: + 33 (0)6 10 66 19 26
Gordon Frickers 24.09.2003 © updated 07.03.2015, 07.06.2015, 28,03,16, 27.03.2016, 05.10.2017
You are cordially invited to follow The Art of Gordon Frickers on https://www.facebook.com/gordon.frickers