One of my "Famous Wine Villages of Bordeaux" series.
Sauveterre-de-Guyenne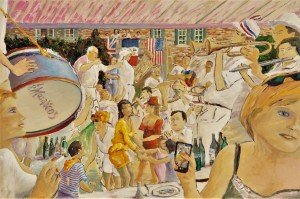 Everything except the wild Mediterranean music by Los Musaicos, measuring 61 x 915 cm (24″ x 36″), oils, yours for £1,500. ~ you might even talk me into including a CD.
Sauveterre-de-Guyenne in the heart of 'Entre Deux Mers' (the land between two rivers), picturesque fortified town ~ wall that is not the wines ~ in the middle of the Bordeaux wine region.
A timeless painting to give you pleasure every time you see it upon your wall
A few years back, en route Gaillac to Saint Emilion I stopped for what I thought would be a brief lunch at Sauveterre-de-Guyenne a commune in the Gironde near Bordeaux, the region is best known as Entre deux Mers, department  Nouvelle-Aquitaine.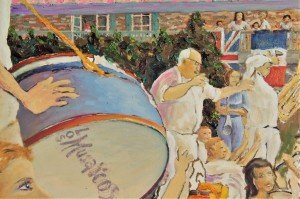 The chief of police was present and said he had made sure all his men were off duty; now there is a man who understands law enforcement.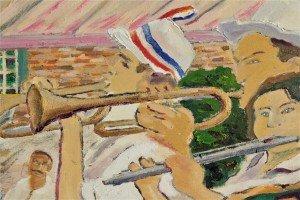 The mayor said to me, "you can speak English if you wish. This town changed hands so many times during the 100 Years War we speak both languages".
Also well known for it's fine wines, particularly cool crisp whites, I was aware there was a festival, unaware I'd be invited into the middle of it and quite unable to leave for  a very merry 5 hours, unaware it was a wine festival.
Vive Sauveterre-de-Guyenne.
Every painting should be an experiment I believe in pushing my personal boundaries hence this study deliberately loose, my intention being to go for the atmosphere rather than detail, of one of the most surprising most spontaneous afternoons in my life.
To acquire this or commission a similar painting, a pleasure to own, a sound investment, you can purchase in easy stages.
To make a purchase the easiest way is bank to bank, ask for details, or using PayPal via the Purchase Page.
Contact US ~ T:+ 44 (0)1865 52 2435  or Skype 'gordonfrickers'
 whatsapp, or phone M: + 33 (0)6 10 66 19 26
Email ~ Important ! please substitute '@' for 'at': artistfrickersatgmail.com
Best value, buy from a dedicated artist- buy from a reputable, established artist direct from his studio.
Copyright 2018  fees and our Terms are among the most generous on the Internet, don't hesitate to ask for details by email, whatsapp, or phone+ 44 (0)1865 52 2435 M: + 33 (0)6 10 66 19 26
Gordon Frickers © 13,07,2018, 23.10.2018