Entre deux Mers, Sauveterre de Guyenne.
The 'Picturesque Wine Villages of Bordeaux' collection, available including for exhibition.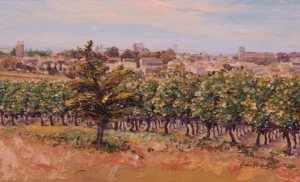 by Gordon Frickers: measuring 38 x 64 cms (15" x 25"), sold. Rare Oil sketch available. 
How much in my currency? Try our free XE Currency converter.
You can purchase via our 'Payments' page using Paypal or bank to bank
By arrangement payments can be in installments, contact us
~ ~ ~ ~
The painting (and sketch):
Inspiration is a fickle mysterious beast…true or false?
An experienced eye can see unlikely subjects can that surprise and delight.
Great treasures of Sauveterre de Guyenne can be discovered within the town walls, still even unlikely subjects can surprise and delight.
While looking for a landscape to include the ancient bastide of Sauveterre-de-Guyenne Gordon Frickers encountered this young tree, a master of ceremonies for these dancing vines, dancing and music being activities much associated with this ancient town.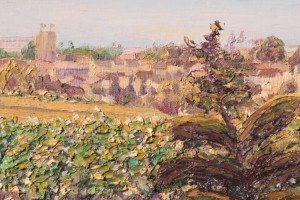 Maybe the moment appealed to his sense of humor, maybe the source of inspiration was a magic afternoon shared with the welcoming people of Sauveterre, food drink, dancing in the tables and the chief of police saying just be sensible, my men are off duty today; at the annual wine festival held in under a huge marquee in the place de Sauveterre.
~ ~ ~ ~
Dancing Vines a 'plien aire' study
by Gordon Frickers: measuring 28 x 36 cms (11" x 14"), available, ex studio.
Painted after careful searching for suitable subjects, 'Plien Aire' so more than rare.
You can purchase via our 'Payments' page using Paypal or bank to bank
We hope you to enjoy your visit, discovered things you like and follow our posts. Kindly spread the word to all collectors you know and help us make this a success for those who appreciate fine art and for the whole art community, thank you.
~ ~ ~ ~
T: + 44 (0)1865 52 2435 or Skype 'gordonfrickers'
Email: info@nullartfrickers.com
Copyright 2016:
Mutually Advantageous, Please Read Carefully.
For professional purposes we are happy to issue licences.
Always credit his name and where possible this web site.
Quoting your source helps your credibility, the artist and others to find and enjoy this art.
For educational and private use we allow a free copy. However please note; as with all artist's work, by International law these pictures and texts belong to the artist and his descendants, so may only be copied after written permission and for commercial use, after a copyright fee has been agreed and paid.
Respect the long hours, years, the art and texts, don't infringe.
Our fees are friendly our terms always reasonable.
Gordon Frickers © 15.02.15, updated 08.06.15, 26,03,16, 27.08.2016
You are cordially invited to follow The Art of Gordon Frickers on https://www.facebook.com/gordon.frickers