Sunset Series: Timeless painting.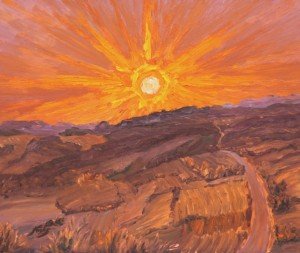 By Gordon Frickers, a landscape painting measuring 47 x 62 cm (18,5″ x 24,5″), oils.
Available £1,800. ~ Looking for the very best in landscape painting? A sound investment at twice the price, one of my finest most original landscapes; ex frame, ex studio

T: + 44 (0)1865 52 2435  Mobile 00 33 (0) 6 10 66 19 26
or Skype 'gordonfrickers'
Email: artistfrickers at gmail.com
The painting
'Impossible to paint' was my reaction to the first two evenings of particularly vivid sunsets seen during an unusually hot spell, daytime temperatures reaching 45 to 48 C (113 to 118.4 F) , at Castelnau de Montmiral.
Of course that thought lead to this 'Sunset Project' and to 'I'll try and see what happens'.
The site I chose to work from was the mound of the Virgin.
You could purchase or commission a painting of this quality, phone, ask how, Contact Us
The forest you see is the ancient Forest of Grisigne, said to be one of the oldest unspoiled forests in Europe
My friend Francis Pratt of the Painting School of Montmiral had been urging me to let my painting go into free fall, « try power painting » he said.
John Mitchell as " a gem, perfect, don't sell it".
To acquire this or commission a similar painting, a pleasure to own, a sound investment, you can purchase in easy stages.
To make a purchase the easiest way is bank to bank, ask for details, or using PayPal via the Purchase Page.
Contact US ~ You can E me: artistfrickers@nullgmail.com, T:+ 44 (0)1865 52 2435 M: + 33 (0)6 10 66 19 26
or Skype 'gordonfrickers' or whatsapp, or phone
E~ Important ! please substitute '@' for 'at': artistfrickersatgmail.com
Best value, buy from a dedicated artist- buy from a reputable, established artist direct from his studio.
How much in my currency? Try our free XE Currency converter.
Copyright 2017:
Copyright fees and our Terms are among the most generous on the Internet, don't hesitate to ask for details by email, whatsapp, or phone+ 44 (0)1865 52 2435 M: + 33 (0)6 10 66 19 26
Gordon Frickers © 01.08.2003, updated 01.04.15, 06,03,16, 11.07.16, 26.08.2016, 28.04.2017, 20.09.2017, 23.07.2018
You are cordially invited to enjoy the fun and fascination of following The Art of Gordon Frickers on his blog and or https://www.facebook.com/gordon.frickers
Contactez Nous




T : + 44 (0) 1865 52 2435 ou par Skype » gordonfrickers




Email : info @ artfrickers.com





Vous êtes cordialement invités à suivre L'art de Gordon Frickers sur le BLOG et via  

www.facebook.com/gordonfrickers