Part of 

  The South West France Collection 

.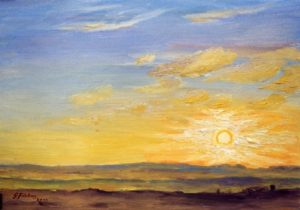 A mysterious sunrise rich with the promise of a new day, a painting by Gordon Frickers, measures 30 x 40 cm (12″ x 16″), yours for £950.
Sunrise over the Gaillac region, Tarn Province of France, a remarkable painting and created spontaneously, 'plien aire' as it happened.
Buy Now, a fine art print on canvas, numbered, signed, via our Marine art Prints or 'Payments' pages using Paypal or bank to bank
How much in my currency? Try our free XE Currency converter.
Best value, buy or commission from a dedicated artist direct from his studio; invest from a reputable, well established artist who has already produced famous paintings.
T : Mobile 00 33 (0) 6 10 66 19 26
or Whatsapp 'gordonfrickers'
Email: info at frickers.co.uk
Copyright 2020 fees, our Guarantee, our Terms are among the most generous on the Internet so don't hesitate to ask, you will be in honest, experienced hands.
Gordon Frickers © 14,11,2008, updated 25.01.2020