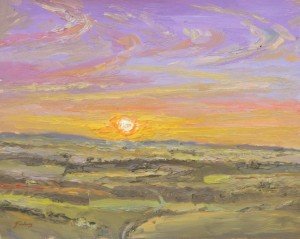 Painting by Gordon Frickers working 'plien aire', , measuring 40 x 50 cm (15¾" x 19¾"), oils, price £1,500.00, ex studio ex frame.
To acquire this or commission a similar painting,
Purchase Now  with Paypal or bank to bank
you can purchase in easy stages.
Own one of 

  The South West France Collection 

. 

The painting
A most powerful, spiritual moment of our day yet with "modern" living how many do we miss?
Weeks later, in what was then my home at #Plymouth a friend of mine who has toured many of the sites I painted in #France, when shown this study made a subtle comment.
Steve. Mitchell said "Here is a painting that is not precise; it allows your mind to think, constantly refreshing you.
Paintings like these are vigorous, alive, mystical, they revive and provoke your imagination".
This semi abstract painting is one of a series produced over several weeks from the same location, the South East corner of the bastide village of Castelnau de Montmiral.
The 'Sunrise Project' objective was to discover what happened when the artist painted what he saw as it happened, how would the colours, tones and composition reveal themselves given the picture had to be completed is some 20 to 40 minutes?
Good preparation was essential for this series (to use a nautical phrase, PPP=PPP, piss poor preparation, piss poor performance…) as was being on location warmly dressed well before dawn.
You could acquire or commission a painting like this.
You can purchase via Purchase Now  with Paypal or bank to bank
By arrangement payments can be in instalments. How much in my currency? Try our free XE Currency converter.
Contact US ~ You can E me: artistfrickers@nullgmail.com, T:+ 44 (0)1865 52 2435 M: + 33 (0)6 10 66 19 26
or Skype 'gordonfrickers' or whatsapp, or phone
E~ Important ! please substitute '@' for 'at': artistfrickersatgmail.com
Best value, buy from a dedicated artist- buy from a reputable, established artist direct from his studio.
Copyright 2017:
Copyright fees and our Terms are among the most generous on the Internet, don't hesitate to ask for details by email, whatsapp, or phone+ 44 (0)1865 52 2435 M: + 33 (0)6 10 66 19 26
Gordon Frickers © 27.07.2003, updated 25.01.2020