'Red Bales', revolutionary paintings, anomalous colour vision, have influenced many fellow painters and changed my life .
These breakthrough paintings "Red Bales 1 and 2" where a key moment.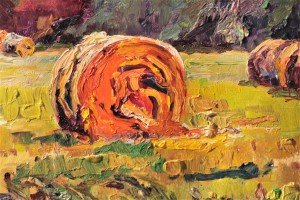 Each #painting measuring 40 x 50 cm (15¾" x 19¾"). 
Available, £ or € 1,500.00 each.
Why "Wild Pyrotechnics", an Explanation, By Francis Pratt and Gordon Frickers, edited by David Folley.
"You can't possibly be an artist with colour vision like that!"; said Francis Pratt of The Painting School of Montmiral in South West France as his first reaction after testing my colour vision.
At £ or € 1,500.00 each, these influential, significant paintings are an absolute bargain, any knowledgeable gallery of agent would ask double.
Purchase Now  , Paypal or bank to bank;
or by arrangement with Gordon Frickers, in instalments.
In addition to painting in new ways, I was trying to find out as much as possible about my rather odd, very rare, 'special colour vision'.
I began to learn to overcome my very odd colour vision, learned to release "wild pyrotechnics"  when I choose and turn this visual handicap to advantage.
How 'colour blindness', a peculiar form of colour vision works, turning complex visual handicaps to advantage, see also "Advantages of Special Colour Vision".
Deuteranope:
anomalous colour vision clearly the difference in extreme cases particularly when mixed with other 'eye' issues is spectacular and raises the questions what colours the deuteranope eye might be able to generate, how does that affect the individual and society in general.
Colour (color) blind is an emotive statement; yet, these two words are contradicted by the facts for Gordon Frickers and a very few other artists.
Deuteranopes can distinguish not only greens and violets but also a whole range of other colours.
From the way Gordon and others describe their colour experience, it is clear that they see green and violet in a different way to the majority of us.
Later Francis revised his opinion to "you are very lucky you have naturally what many other artists seek".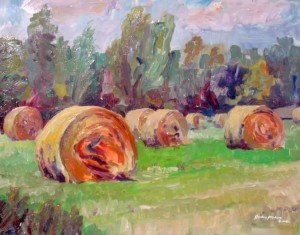 At £ or € 1,500.00 each, these influential, significant paintings are an absolute bargain, any knowledgeable gallery of agent would ask double.
Colour :
Like the air we breathe, Colour is hugely important to all of us   we mostly take it for granted,
Our response to it is an integral part of our daily lives and in each individual it is influenced by a unique life experience.
Of the more celebrated Impressionist, Post-Impressionist and early Modernist painters a surprisingly large proportion were short-sighted.
This meant that when they were making paintings of landscapes they could see what they were painting clearly but what they were looking at was blurred.
Renoir and Cézanne are known to have seen this as an advantage.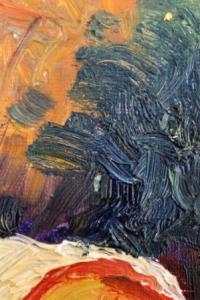 Anomalous colour vision :
Approximately  8 to 10 % of men and 2 to 4 % of women are born with colour vision that differs from that of the majority.
These people have only two cone receptors in their retinas as opposed to the more widespread three.
Purchase Now  , Paypal or bank to bank;
or by arrangement with Gordon Frickers, in instalments.
To call their vision defective is misleading since studies show that two cone-receptor eyes pre-dated three cone receptor ones by a very long period of time.
The latter only appeared when, in prehistoric times, our ancestors left the savannah for the forests where they needed to be able to distinguish red, orange and yellow fruit from the green leaves in which they nestled.
In some respects this was an important gain, but not in others.
To this day the possessors of two cone-type eyes have substantial advantages in certain situations.
This has long been known to be true for those who live an outdoor life among animals whose camouflage hides them from people with three cone-type eyes.
This different sensitivity to colour proved to be of great use in the Second World War when people with two cone-type eyes were taken up in airplanes to detect camouflaged targets.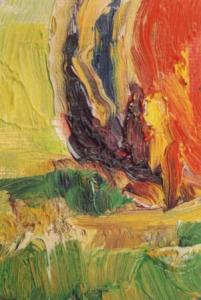 For those interested in the work of artists with only two cone-types in their eyes, all this leaves three questions.
These are:
What is their experience of colour?
In what ways does this affect the paintings they produce?
Do these offer any special colour-related excitements to spectators with three cone-type vision?
These questions are of fundamental interest for Gordon Frickers, who is among those with two cone-type eyes.
Since his earliest beginnings as an artist he has been faced with a choice.
Either he must learn to hide the special nature of his colour vision, or he could explore the opportunities it opened up for him.
In his early marine paintings he showed how able he can be at deception.
Latterly, he has opted to give more time to investigating the advantages of painting as he sees.
This has enabled him to paint in a much more direct way and has proved to be a liberation and a joy.
But, what has this meant for others?
France, The Painting School of Montmiral :
Francis Pratt who heads The Painting School of Montmiral is a teacher and artist, with a scientific approach to colour.
Francis is with out doubt one of our world's leading experts on the subject and has among other things worked extensively on our visual response to colour with scientists at the University of Stirling.
Some ten years into his career as a painter, which included producing some very successful paintings like "Ice Maiden' Gordon was becoming increasingly aware of difficulties with his colour vision, two examples, for him colours could change instantaneously as he looked and matching most colours without assistance was near impossible; yet his Father in particular had excellent colour matching ability.
Gordon had developed some clever ways of compensating however colour remained an issue.
As a result of exhibiting at the Mall Galleries, London with the Royal Society of Marine Artists, he was sent some publicity for The Painting School of Montmiral.
The rest as 'they say' is history.
Explanations :
Francis Pratt worked closely with Gordon Frickers on and off for some 20 years.
Francis wrote the following, published here with his permission.
In addition to painting in new ways, Gordon has been trying to find out as much as possible about his special vision.
In this he has been helped by conversations with me.
I was formerly a Senior Research Fellow in the Department of Psychology at the University of Stirling, in Scotland.
where I made a study of how artist's use their eyes when at work.
One of the main focusses concerned the nature of colour vision.
After leaving Stirling I founded the Painting School of Montmiral, in France.
Over the years a fair number of gifted artists with anomalous colour vision have attended my courses, Gordon was the first, with the result that I have for a long had a special interest in their problems and opportunities.
According to the Ishihara colour blindness test, Gordon is a "deuteranope", which means that although possessing red and blue cone receptors, he lacks green ones.
To get some idea of what this means in practice it is necessary to realise that, according to classical colour theory, the colours we see are created on the basis of the relative degree of stimulation of the different colour-sensitive receptors by the light coming into they eye.
The potential for colour vision which this offers a three cone-type eye is often illustrated by means of a colour triangle.
If you would like to discover more follow
Further reading:
See also : "Advantages of Special Colour Vision".
The text includes information on:
COLOUR TRIANGLE SHOWING HYPOTHETICAL MIXTURES BETWEEN THREE CONE-TYPES IN THE RETINA OF THE EYE.
COLOUR-LINE SHOWING HYPOTHETICAL MIXTURES BETWEEN TWO CONE-TYPES IN THE RETINA OF THE EYE.
RED AND GREEN CONE-TYPE RECEPTOR CELLS INTERACT TO PRODUCE YELLOW.
A COLOUR-SQUARE SHOWING MIXTURES BETWEEN TWO OPPONENT COLOUR CELLS AND (2) A COLOUR-LINE SHOWING MIXTURES BETWEEN RED AND BLUE OPPONENT COLOUR CELLS.
THE EYE SHOWING THE RETINA LINING THE BACK OF THE EYE-BALL
LIGHT PASSING THROUGH BLOOD VESSELS AND NEURAL NETWORKS BEFORE ARRIVING AT THE RECEPTORS.
Conclusions :
Over the years Gordon has learnt how to use his special eyes in the most efficient way.
One of the things he has discovered is that seeing the maximum range of colours is much easier when the levels of illumination are high as they are outdoors in the bright sunshine where he loves to paint.
Lucky man!
Francis Pratt, 10.09.1993, The Painting School of Montmiral, Rue de la Porte Neuve,
81140 Castelnau de Montmiral.
France.
Color, English spelling 'Colour'.
By Francis Pratt, Gordon Frickers, edited by David Folley.
~ ~ ~
Become one of the distinguished few who own an original Frickers painting; you can easily acquire or commission a painting.
We give you an unrivalled guarantee
You can purchase via our 'Payments' page using Paypal or bank to bank
By arrangement payments can be in instalments. How much in my currency? Try our free XE Currency converter.
Email: infoatfrickers.co.uk
Email note, to foil spammers I've used 'at' in the address, : please substitute @ :
T : Mobile 00 33 (0) 6 10 66 19 26
or free via Whatsapp / Facebook Messenger 'gordonfrickers'
Copyright 2020 :
fees, our Guarantee, our Terms are among the most generous on the Internet so don't hesitate to ask, you will be in honest, experienced hands.
Gordon Frickers © updated 22.12.2020