One of 
  The South West France Collection 
. 
Discoveries in France viewed through the eyes of the artist Gordon Frickers.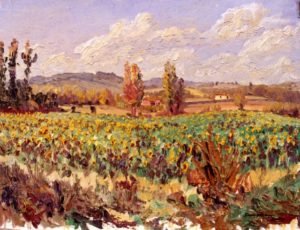 This splendid little painting measures 33 x 43 cm (13" x 17") is available for £1150, or €, or U S $.
A painting made on location in the heart of L'Occitane, the Gaillac region of southern France, a region long aeons famous for wines chosen for kings.
"More than a match for anything in the Musee d'Orsay" ~ Alain Soreano, author, historian [December 2016] when introducing an exhibition of my work at the Maison culturale, Gaillac.
 Purchase Now  , Paypal or bank to bank; life is short, you may not get a second chance …
or by arrangement with Gordon Frickers, in instalments.
Copyright 2020 fees, our Guarantee, our Terms are among the most generous on the Internet so don't hesitate to ask, you will be in honest, experienced hands.
Gordon Frickers © 19.06.2020.