September painting of Golden Days,

painting a dream, a paradise  as seen. 
On location in the heart of a region long aeons famous for wines chosen for kings, sunflowers, wild forests and which some call 'paradise'.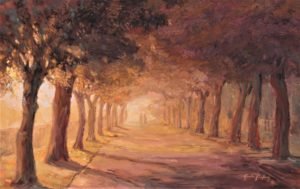 "Golden Days", Promenade [3],  61 x 91 cm (24″ x 36″) Available £ 1,500.
Exploring light, colour and composition inspired by The Promenade of Castelnau de Montmiral.
> with your credit card Purchase Now  < via Paypal, in any currency, or £ or bank to bank; or in instalments by arrangement, contact Gordon Frickers.
How much in my currency?
 Try this   free XE Currency converter.
The painting :
The painting here is I hope you agree is part of the feelings, myths, dreams and ideals many of us experience.
My perspective is the location exists and partly in us all, and at the new castle upon the hill of the far seeing, and in a bastide in SW France, Castelnau de Montmiral, upon the Promenade.
This painting came into being as a result of the my turning out early one morning to observe and record a mysterious, misty morning at the bastide where the I lived for 5 years.  
I intend to visit this theme if not this scene again and several others of similar aura as my art work increasingly turns to feelings, aspirations, inspiration, dreams.
You can discover more about historic Castelnau de Montmiral  one of the most beautiful villages of France and the beautiful  Tarn by exploring through the eyes of this artist Gordon Frickers on this web site, discover, enjoy and while you have the chance invest yourself with painting.
Contact Us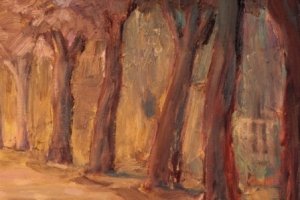 "More than a match for anything in the Musee d'Orsay" ~ Alain Soreano, author, historian [December 2016]
You are cordially invited to follow The Art of Gordon Frickers on
www.facebook.com/gordonfrickers
Occitane region :
Castelnau de Montmiral, painting in the heart of France.
You could acquire or commission a painting like this.
You can purchase via our 'Payments' page using Paypal or bank to bank
By arrangement payments can be in instalments. How much in my currency? Try our free XE Currency converter.
Landline : + 33 (0) 9 79 01 93 20
Mobile : + 6 10 66 19 26, E : artistfrickers at gmail.com
WhatsApp, Telegram.com or Facebook Messenger to  'gordonfrickers'
Email: artistfrickersatgmail.com : note, the 'at' is to fool robots and should be replaced with @ : if it arrives I always reply.
Websites : www.frickers.co.uk/art (marine & aviation)
& www.artfrickers.com (Landscapes & portraits).
Copyright 2022 and legal moral rights for painters :
Sharing my pages and posts for private use helps everyone.
For commercial use our Fees and  Terms  are among the most generous on the Internet.
Don't hesitate to ask for details.
Gordon Frickers © updated 23.09.2022
You are cordially invited to follow and share on your posts, The Art of Gordon Frickers, his blog and or www.facebook.com/gordonfrickers.