September painting a

'Golden Dawn'

 in a fading year, renewal old and mysterious as time.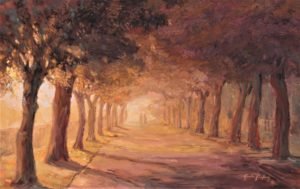 A painting inspired by a misty dawn on The Promenade of la bastide de Castelnau de Montmiral, Occitane, France.
A morning promenade [3] measuring 61 x 91 cm (24″ x 36″)
£ 1,500.
For Sale > with your credit card Purchase Now  < via Paypal, in any currency, or £ or bank to bank; or in instalments by arrangement, contact Gordon Frickers.
How much in my currency?
 Try this   free XE Currency converter.
The Golden Dawn Painting 
Dawn, l'Occitane region near as old as time, the dream like qualities of a painting inspired by The Promenade of  Castelneau de Montmiral, a mysterious spontaneous landscape painting with a rich positive aura.
This painting holds a different conversation with each viewer.
A conversation personal, for you, your imagination, your feelings and this painting.
You could purchase or commission a painting of this quality, phone, ask how.
Contact Us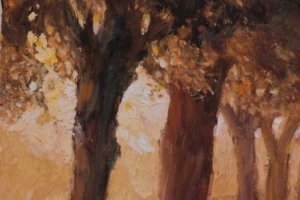 Looking for the very best in new landscape art?
You have found it here: Timeless paintings, the test of true greatness.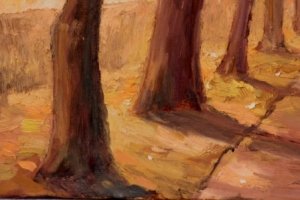 A painting inspired by the goodly ambience of staying with my 'French Sister' Helene Ancelet, I awoke to a foggy dawn.
The sailor and artist in me knew something special was about to happen so I was out of the house in double quick time.
A charming and seductive 13 th century hill top 'bastide' village, Castelnau de Montmiral in the  L'Occitane region.
You could acquire this or commission a painting like this.
You can purchase via our 'Payments' page using Paypal or bank to bank
By arrangement payments can be in instalments. How much in my currency? Try our free XE Currency converter.
Landline : + 33 (0) 9 79 01 93 20
Mobile : + 6 10 66 19 26, E : artistfrickers at gmail.com
WhatsApp, Telegram.com or Facebook Messenger to  'gordonfrickers'
Email: artistfrickersatgmail.com : note, the 'at' is to fool robots and should be replaced with @ : if it arrives I always reply.
Websites : www.frickers.co.uk/art (marine & aviation)
& www.artfrickers.com (Landscapes & portraits).
Copyright 2022 and legal moral rights for painters :
Sharing my pages and posts for private use helps everyone.
For commercial use our Fees and  Terms  are among the most generous on the Internet.
Don't hesitate to ask for details.
Gordon Frickers © updated 23.09.2022
You are cordially invited to follow and share on your posts, The Art of Gordon Frickers, his blog and or www.facebook.com/gordonfrickers.