"Vines and  sunflowers" in the heart of l'Occitane. Laborie,
A landscape painting by Gordon Frickers measuring 30 x 45 cms (12" x 18"), oils, sold

So sorry, you missed this one… 
A timeless painting will give you pleasure every time you see it upon your wall
A painting that hangs comfortably with the finest collections.
Looking for the best in fine art investments?
You have found it here.
The Painting
Of vines, sunflowers and corn, typical of high summer in the beautiful Gaillac region of the little known and some what mysterious l'Occitane region, Tarn Province.
This very textured painting was produced mostly using palette knives,  some strokes being broad and smooth, others quite the opposite, pointillist.
Combined with a thoughtful choice of composition, strong vibrant colours inspired by the bright light of the Gaillac region, all and more combine to make a pleasing most unusual painting.
My choices are quite deliberate, to retain a sense of spontaneity and because it is important  to experiment, push my boundaries, see what happens.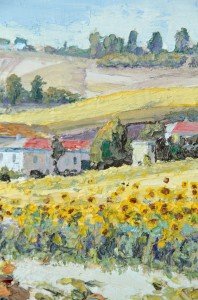 The painting results from one of my many afternoon walks in the valley of mas de Boyer, Laborie, 5 kilometers North of Gaillac, where I was fortunate to live for 18 months.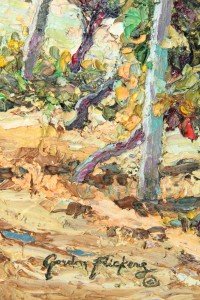 I look forward to returning, care to join me?
Enjoy
You cant? Then you are cordially invited to enter the magic world of The Art of Gordon Frickers on Facebook.
You would love to own this or a similar Gordon Frickers original painting, by arrangement payments can be in instalments. 
How much in my currency? Try our free XE Currency converter.
To commission a similar painting, a pleasure to own, a sound investment, you can purchase in easy stages.
To make a purchase the easiest way is bank to bank, ask for details, or using PayPal via the Purchase Page.
Contact US ~ T:+ 44 (0)1865 52 2435  or Skype 'gordonfrickers'
 whatsapp, or phone M: + 33 (0)6 10 66 19 26
Email ~ Important ! please substitute '@' for 'at': artistfrickersatgmail.com
Best value, buy from a dedicated artist- buy from a reputable, established artist direct from his studio.

Copyright 2018:
Copyright fees and our Terms are among the most generous on the Internet, don't hesitate to ask for details by email, whatsapp, or phone+ 44 (0)1865 52 2435 M: + 33 (0)6 10 66 19 26
Gordon Frickers © 12,02,16 updated 11.08.2016, 24.08.16, 02,02,2017, 22.05.2018