'Gaillac, Surprising Vines' series,
Painted on location near Gaillac, in the heart of L'Occitane, a region for long aeons famous producing wines chosen for kings.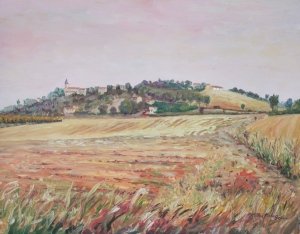 This 'plien aire' landscape painting measures 40 x 50 cm (16″ x 20″), oils, available, £1,500, ex frame ex studio
"more than a match for anything in the Musee d'Orsay" ~ Alain Soreano, author, historian.
This painting
was described as "more than a match for anything in the Musee d'Orsay", by the  acclaimed Gaillac historian and author Alain Soreano, when Alain introduced the inaugural showing of this 'Gaillac Collection' at the Maison Culturale, Ville de Gaillac, an exhibition during December 2016.
This was produced one morning on location so has it's roots firmly in the beautiful  Tarn and its people in the heart of L'Occitane,  inspired by my friends and by often passing the bastide de Levi while driving to the UNESCO World Heritage town of Albi.
The wines of Bastide de Levi are well respected, the village also offers a choice of two restaurants I found to be good and easy access to the cathedral town of  Albi and Gaillac.
By arrangement payments can be in instalments. How much in my currency? Try our free XE Currency converter.
To acquire this or commission a similar painting, a pleasure to own, a sound investment, you can purchase in easy stages.
To make a purchase the easiest way is bank to bank, ask for details, or using PayPal via the Purchase Page.
Contact US ~ T:+ 44 (0)1865 52 2435  or Skype 'gordonfrickers'
 whatsapp, or phone M: + 33 (0)6 10 66 19 26
Email ~ Important ! please substitute '@' for 'at': artistfrickersatgmail.com
Best value, buy from a dedicated artist- buy from a reputable, established artist direct from his studio.
Copyright 2018  fees and our Terms are among the most generous on the Internet, don't hesitate to ask for details by email, whatsapp, or phone+ 44 (0)1865 52 2435 M: + 33 (0)6 10 66 19 26
Gordon Frickers © 24,02,16, updated 17.12.2019