A classic view of 

Gaillac, a seductive town

in

the heart of L'Occitane,

a region long

aeons famous for wines

chosen

for kings.
Landscape painting measures 60 x 92 cm (24″ x 36″), A good investment for 3,000 £ and a pleasure to own
> here bank to bank or with your credit card Purchase Now  < via Paypal, in any currency, or in instalments by arrangement, contact Gordon Frickers.
One of the paintings described as "more than a match for anything in the Musee d'Orsay", by the  acclaimed Gaillac historian and author Alain Soreano, when Alain introduced the inaugural showing of this 'Gaillac Collection' at the Maison Culturale, Ville de Gaillac, an exhibition during December 2016.
Gaillac painting
The town of Gaillac (pronounced guy'ak) at the heart of L'Occitane one of a series of paintings of the town and more outstanding chateaux.
This landscape painting was be completed on location with the kind permission of the landowner, my good friend Charles, Count de Noblet-Anglure, during September 2016
You are perhaps aware, Gaillac is a small, remote very varied and beautiful wine producing region with a long interesting history which includes some remarkable vines.
Today Gaillac wines have become quite chic among the young in London.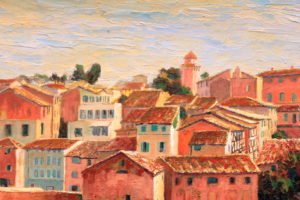 Around Gaillac
people are working hard to develop these distinctive wines and their markets.
This painting was inspired by and has it's roots firmly in the beautiful capricious river Tarn and the old quarters of Gaillac.
The town was a busy port, at one time over 200 barges were registered with the 'Captainerie' as built and maintained at the port.
The origins of the port and it's trades are pre Roman; during Roman times the principal exports were pottery, wines, grains and timber.
The location is one very familiar to me, enjoyed on many varied occasions, often with friends.
This painting was a direct development of the 'plien aire' study "Gaillac, the best route to arrive…" which was kept in the studio while this picture was composed and created so contributed significantly to the colouring.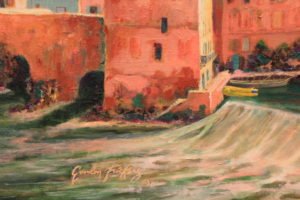 We give you an unrivalled guarantee.
By arrangement payments can be in instalments. 
Contact Frickers paintings and prints
Many distinguished people and renowned companies chose Frickers paintings as you can discover by reading my illustrated résumée.
Landline : + 33 (0) 9 79 01 93 20
Mobile : + 6 10 66 19 26, E : artistfrickers at gmail.com
WhatsApp, Telegram.com or Facebook Messenger to  'gordonfrickers'
Email: artistfrickersatgmail.com : note, the 'at' is to fool robots and should be replaced with @ : if it arrives I always reply.
Websites : www.frickers.co.uk/art (marine & aviation)
& www.artfrickers.com (Landscapes & portraits).
Copyright 2022 and legal moral rights for painters
Sharing my pages and posts for private use helps everyone.
For commercial use our Fees and  Terms  are among the most generous on the Internet.
Don't hesitate to ask for details.
Gordon Frickers © updated 07.01.2023
You are cordially invited to follow my blog & www.facebook.com/gordonfrickers.
Feel free to share my posts so more people can discover these unique paintings and stories, every share also help this site with SEO, thank you.

This Gordon Frickers art signature is on all my more recent paintings.