One of The « Amazing Gaillac» series.
"more than a match for anything in the Musee d'Orsay" ~ Alain Soreano, author, historian.
Looking for the best? You have found one here.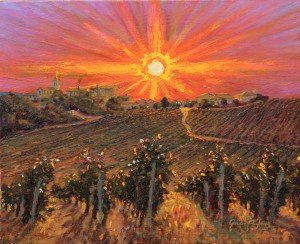 a landscape painting measuring 40 x 48 cm (16" x 19"), oils, available £1,500, ex frame, ex studio 

Domaine de Barry, en agriculture biologique UN TERROIR D'EXCEPTION / L'AMOUR DU VIN. DOMAINE DU BARRY. Alain MAROULLE. 81140 CAMPAGNAC.
Painted near Gaillac, 'plien aire', in the heart of L'Occitane, a region for long aeons famous producing wines chosen for kings.
In merry company I spent many a memorable evening at du Barry, the domaine being for many years noted for its summer soirees, live music, good inexpensive foods and drinks, art exhibitions, and of course, dancing and singing.
As the oils  dried and thoughts have occurred, I've made numerous small subtle changes in my studio, refining and refining .
My aim was to preserve the best qualities of a 'plien aire' sunsets I'd previously painted and apply that study to this painting of domaine du Barry.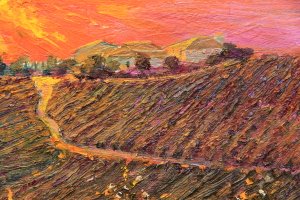 Nothing lasts for ever, change is inevitable however you can be sure we ate drank and made very merry many a summer's evening (and one memorable New year) at domaine du Barry, village de Campagnac, thank you Alain MAROULLE.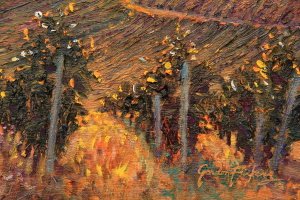 a landscape painting measuring 40 x 48 cm (16" x 19"), oils, available, £950. ex studio ex frame.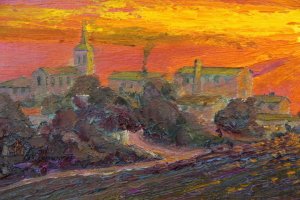 The painting
I've chosen to paint this, as a friend said "C'est flamboyant!!"
The Development, reverse order: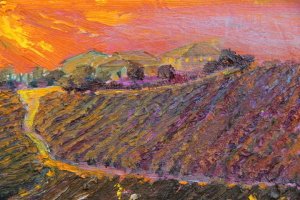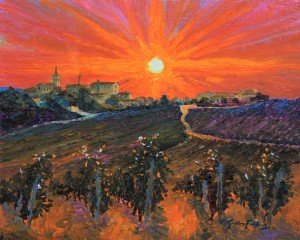 There are several reasons, the main one being I want at least one extreme painting in my new Gaillac collection.
This one is based on a 'plien aire' sunset study I made near Domaine Du Barry a few years ago.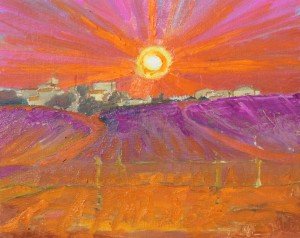 To acquire or commission an example of the art of Gordon Frickers by arrangement payments can be in instalments.
How much in my currency? Try our free XE Currency converter.
To make a purchase the easiest way is bank to bank, ask for details, or using PayPal via the Purchase Page.
Contact ME 
 T:+ 44 (0)1865 52 2435  or Skype 'gordonfrickers',    whatsapp, or phone M: + 33 (0)6 10 66 19 26
E ~ Important ! please substitute '@' for 'at': artistfrickersatgmail.com
Best value, buy from a dedicated artist- buy from a reputable, established artist direct from his studio.
Further reading, photo details, main text
Copyright 2018:
Copyright fees and our Terms are among the most generous on the Internet, don't hesitate to ask for details by email, whatsapp, or phone+ 44 (

0)1865 52 2435 M: + 33 (0)6 10 66 19 26
Gordon Frickers © updated 17.12.2019

Contactez Nous




T : + 44 (0) 1865 52 2435 ou par Skype » gordonfrickers




Email : info @ artfrickers.com





Vous êtes cordialement invités à suivre L'art de Gordon Frickers sur le BLOG et via  

www.facebook.com/gordonfrickers