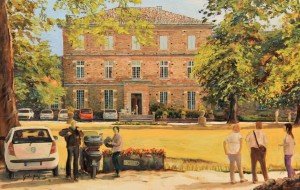 Tarn Province, Gaillac, Château Lastours, Gaillac measures 61 x 915 cms (24″ x 36″), oils, by Gordon Frickers, available, £3000. 

T: + 44 (0)1865 52 2435  Mobile 00 33 (0) 6 10 66 19 26  or Skype 'gordonfrickers'
Email (note, I've used 'at' please substitute @): artistfrickersatgmail.com
Contactez Nous T : + 44 (0) 18 65 52 24 35, M: 06 10 66 19 26
ou par Skype » gordonfrickers ~ Email : info@nullartfrickers.com

Painting:
"Chai", a French word you are most likely to see and hear in the South West of France means 'a place where wine can be sampled.
That surely means a place to paint?
'Chai' a word most often used in South West France = drink wine samples ! Hence the people arriving included in this beautiful painting.
A painting that will make you feel good every time you see it on your wall.
"Chai" un mot le plus souvent utilisé dans le Sud-Ouest de la France = boire des échantillons de vin! D'où les gens qui arrivent inclus dans cette belle peinture.
Une peinture pour vous faire sentir bien chaque fois que vous le voyez sur votre mur
Researched and designed on location as part of a project painted at the request of the Municipale de Gaillac for an exhibition in December 2016, you can follow the development of this picture here on this page and on this web site blog.
Having had a good long look at the subject and settled on the desired perspective and composition I marked out the design.
The next issue is to decide which are the underlying power colours.
Here the first of the tones are being established which will set the lighting, final colours and details that help describe the character of the scene will come last.
I was careful not to include the registration number of any of the cars or bike, just in case some one was there who should not have been, with his mistress, after all, it's France !
Vive la France !
About Château Lastours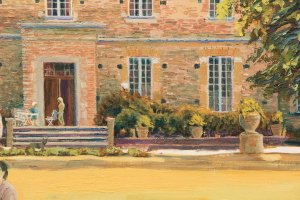 This picturesque Château Lastours stands on the South bank of the turbulent river Tarn, a few kilometers from Château Clément Termes and famous Château de Saurs.
There was a time when Gaillac wines were more famous than those of Bordeaux.
The Phoenicians are credited with first cultivating vines around the very South of France town of Gaillac, King Henry II of England, the founding fathers of the USA are known to have enjoyed Gaillac wines, you can too.
At first glance the building appears symmetrical, look more closely and discover that is not so, Château Lastours is weathered by a long history.
Today Château Lastours produces a fine selection of timeless, distinctive Gaillac wines.
The opposite face of the this Château will equally surprise and repay your stroll through the gardens.
To contact the Château
Le Château Lastours; Le Chateau Lastours vous propose des visites autant historiques qu'oenologiques.
et vous en racontent tous les secrets.
Adresse :
Lastours, 81310 Lisle-sur-Tarn
How much in my currency? Try our free XE Currency converter.
To acquire this or commission a similar painting
Contact US ~ 'Phone:+ 44 (0)1865 52 2435  or Skype 'gordonfrickers' ~ whatsapp, or phone M: + 33 (0)6 10 66 19 26
Email ~ Important ! please substitute 'at' for @: artistfrickersatgmail.com
Copyright 2018

 

fees and our Terms are among the most generous on the Internet, don't hesitate to ask for details

 
Gordon Frickers © 05,03,2018, updated 22.05.2018