Trees, Woodlands and Forest » Collection.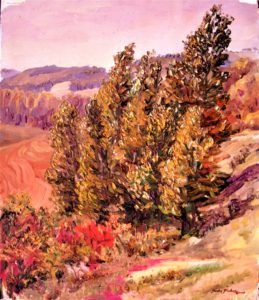 Trees painted 'plien aire' by Gordon Frickers measuring 40 x 50 cm (15¾" x 19¾"), oils, price £2000, ex studio, ex frame.
"Trees in a Breeze[1]" was first in a series I painted exploring ways to paint trees and my 'natural' as opposed to 'learned' colour vision.
To acquire this painting go to the Payment page or contact us.
'Trees in a Breeze [1], Further Reading

Copyright 2019

fees and our 

Terms

 are among the most generous on the Internet, don't hesitate to ask for details.
Gordon Frickers © 09.04.2019