Trees, Woodlands and Forest experiments on locations, improbably painting the impossible » Collection.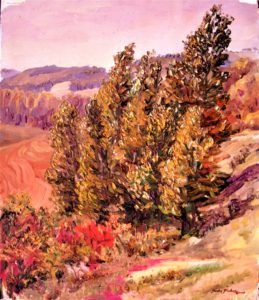 Tree painting 'plien aire' by Gordon Frickers measuring 40 x 50 cm (15¾" x 19¾"), £2000
 Purchase Now  £/€ while you have the chance, Paypal or bank to bank; life is short, you may not get a second chance …
or by arrangement with Gordon Frickers, in instalments.
"Trees in a Breeze[1]" was first in a series I painted exploring ways to paint trees and my 'natural' as opposed to 'learned' colour vision.
To acquire this painting go to the Payment page or contact us.
'Trees in a Breeze [1], Further Reading
T : Mobile 00 33 (0) 6 10 66 19 26
or Whatsapp 'gordonfrickers'
Email: info at frickers.co.uk
Copyright 2020 fees, our Guarantee, our Terms are among the most generous on the Internet so don't hesitate to ask, you will be in honest, experienced hands.
Gordon Frickers © 09.04.2019, updated 19.07.2020